Children of civil-rights pioneer share credo at YSU fest
Related story: A lot of reading helps with writing, author says
By HAROLD GWIN
YOUNGSTOWN
The Rev. Fred Shuttlesworth raised his four children to put God first and to give their best at all times.
It's a credo they've followed all of their lives and a message they don't hesitate to offer to others.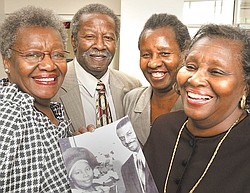 Photo
The children of the late Ruby and the Rev. Fred Shuttlesworth (in the photo) carry on the legacy of their father. From left, Ruby Shuttlesworth Bester, Fred Shuttlesworth Jr., Carolyn Shuttlesworth and Patricia Shuttlesworth Massengill .
Patricia Shuttlesworth Massengill, Ruby Shuttlesworth Bester, Fred Shuttlesworth Jr. and Carolyn Shuttlesworth are bringing that message and more to thousands of young people attending the annual Youngstown State University English Festival this week as the James A. Houck Lecturers.
The Rev. Mr. Shuttlesworth, now 88, was the primary organizer of nonviolent civil-rights protests in Birmingham, Ala., during the 1950s and 1960s, and his two oldest children, Patricia and Ruby, participated in many of those demonstrations.
Mr. Shuttlesworth was pastor of Bethel Baptist Church in Birmingham and co-founded the Southern Christian Leadership Conference along with Dr. Martin Luther King Jr., the Rev. Ralph Abernathy and others, and moved to integrate the Birmingham schools and organized sit-ins and freedom rides.
Patricia, Ruby and Fred Jr. are featured in the book Freedom's Children, a collection of interviews from individuals who were engaged in the civil-rights movement as children.
Their father's legacy leaves them something to be proud of, Patricia told a group of several hundred students at YSU Wednesday, noting that their father taught them to "pay it forward" by being kind and helpful to others.
Their father's civil-rights work made him a lot of enemies and the family home was guarded day and night, Patricia recalled. Despite that, the house was bombed on Christmas night 1956, she said.
"Growing up [a] Shuttlesworth was quite different, but it was a positive experience," she said.
"We were happy people," Patricia said, explaining that, as children, they weren't really aware of all the turmoil surrounding the civil-rights movement.
Ruby said that her father tried to enroll her, Patricia and another person in a high school in Birmingham in 1957, a move that led to a court battle that eventually desegregated the city's schools.
"Regardless of what happens, you can do all things," she told her young audience.
"The more you do for others, the more will be done for you," Fred told the students. "That's how blessings work."
He advised them to "learn to love your people" and learn how to be appreciative and polite. You can impact people you don't even know, he said.
"We call ourselves 'Professional Shuttlesworths'", Carolyn, the youngest, said. It's important to continue to tell this story.
All four of the children became teachers. The oldest three are now retired and living in Cincinnati. Carolyn, who holds a Ph.D., is on the faculty of Howard University in Washington, D.C.
Although they all frequently tell the story of their childhood, this is only the second time all four have gotten together to present a program. The first time was at the 1996 YSU English Festival.