Rogner, Merrill honored at YSU banquet
Staff report
YOUNGSTOWN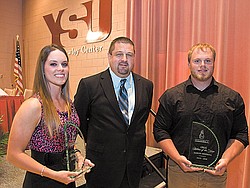 Photo
Katie Rogner, left, of the women's golf team and Aaron Merrill, right, of the men's track & field team were named Youngstown State/Vindicator Athletes of the Year at the annual Scholar-Athlete Banquet on Tuesday night. They were presented their awards by Vindicator sports editor Rob Todor, center.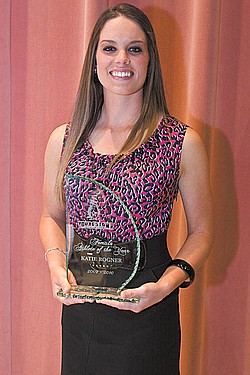 Photo
Katie Rogner of the women's golf team was named Youngstown State/Vindicator Athletes of the Year at the annual Scholar-Athlete Banquet on Tuesday night.
Aaron Merrill and Katie Rogner were honored as the Vindicator/Youngstown State Athletes of the Year at the annual Penguin Club Scholar-Athlete Banquet at Kilcawley Center on Tuesday night.
Merrill, a senior, has won five Horizon League individual titles entering his final appearance at the outdoor championships this weekend.
Twice he has advanced to the NCAA Mideast Regionals in the shot put during the outdoor slate. In 2009, he was a third-team ESPN The Magazine/CoSIDA Academic All-America selection.
He is a three-time academic all-league pick in indoor track and field, a two-time outdoor honoree and last year he was selected as a member of the United States Track & Field and Cross Country Coaches Association Division I All-Academic team.
A graduate of Leetonia High School, he is the son of Sandy and Larry Merrill. Majoring in Criminal Justice, he owns a 3.79 GPA.
Rogner is a three-time first-team All-Horizon League selection who has placed in the top five at the conference championships in her first three years with the program. Just a junior, she is the first golfer in school history to be named the YSU/Vindicator Scholar Athlete of the Year.
On Sunday, Rogner tied for fourth at the Horizon League championships with a three-round total of 233 (77-75-81). She was named first-team all-league and was named to the all-tournament team.
Rogner is a graduate of Warren JFK High School where as a senior she finished fourth at the Division I high school championship.
She is a the daughter of Lisa and Jeff Rogner. She owns a 3.14 grade-point average majoring in Industrial and Systems Engineering.
The awards were presented by Vindicator sports editor Rob Todor, as part of the Penguin Club's annual recognition banquet for the university's top student-athletes.
Also receiving a special award was men's basketball player Dallas Blocker, who received the Jimmy V Foundation Comeback Award. The presenter was Joyce Aschenbrenner, Vice President-Special Projects, with the Jimmy V Foundation.
Over 100 student-athletes were recognized for having a GPA of 3.0 or better.
Additionally, 12 student-athletes achieved 4.0 GPAs — Liseli Baich (swimming/civil and construction engineering); Stephen Blose (football, middle childhood education); Jodi Bowlen (soccer, criminal justice); Justin Cullen (golf, integrated math education); Craig Goubeaux (baseball, engineering); Marc Kanetsky (football, biology); Kelsey Kampton (soccer, exercice science); Brian Mellott (football, general business); Kaitlin Rohrs (basketball, marketing); Victoria Rumph (softball, exercise science); Rachel Tano (swimming, middle childhood education), and Michael Turner (golf, accounting).
Amanda Carpin, a member of the YSU diving and track & field teams, and president of the Student-Athlete Advisory Committee, presented the organization's leadership awards to Jennifer Johnstone (swimming) and Blose.
The softball team received the organization's Team Community Outreach Award, and Gary Williams, Director Softball Operations, received the Sportsmanship Award.
Elaine Jacobs, YSU Associate Director of Athletics, recognized the women's cross country program (3.66) and the men's golf program (3.23) for having the highest team GPAs.
Also, Executive Director of Athletics Ron Strollo presented a $500 check to Beatitude House for the NCAA's Pack the House promotion, and Director of Athletic Development Joe Cassese recognized the endowed scholarship donors and recipients.
Dr. Cynthia Anderson, YSU vice-president for student affairs and newly appointed YSU President, served as Master of Ceremonies.