Other coroners differ with Kennedy's behavior
By PETER H. MILLIKEN
YOUNGSTOWN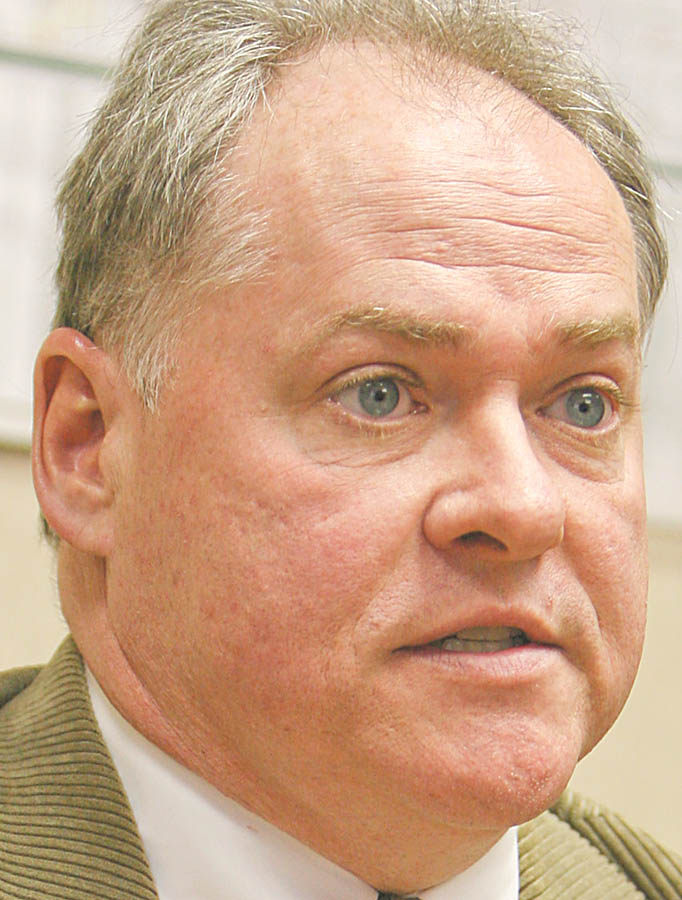 Photo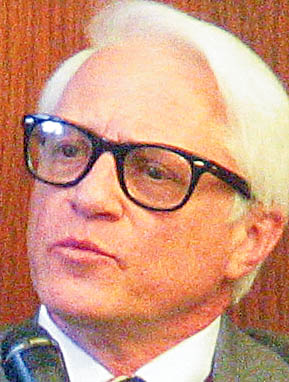 Photo

Photo
Three were killed Saturday when a car traveling between 80 and 90 mph on Blossom Avenue crashed into a house, top, at 525 Cynthia Drive, where Blossom dead-ends. This is a picture of the car after the accident.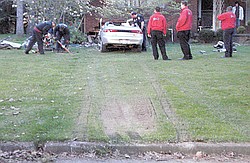 Photo
Three were killed Saturday when a car traveling between 80 and 90 mph on Blossom Avenue crashed into a house, top, at 525 Cynthia Drive, where Blossom dead-ends.
SERVICES
Calling hours for Poetry Dotson, 21, are 5 to 7 p.m. today at the Van Dyke-Swaney-Rettig Funeral Home, 60 W. Martin St., East Palestine. The funeral begins at 7 p.m. there.
Calling hours for Ian Stores, 17, are from 5 to 7 p.m. Friday at Lane Funeral Home, Austintown Chapel, where services will be at 7 p.m. Friday. Tribute, A10
Funeral arrangements for Elijah Paige, 20, are pending.
Neighboring county coroners say they'd arrange for police or fire investigators to get weekend access to morgues for identification of the deceased, in contrast to events this past weekend in Mahoning County.
In addition, nearby colleagues of Dr. David M. Kennedy, Mahoning County coroner, said their offices would have been represented at the crash in Campbell on Saturday morning after three people died when a car struck a house at 80 to 90 mph.
"We're open 24 hours a day, seven days a week, with an investigator on call at all times, and I'm on call 24/7/365," said Dr. Humphrey Germaniuk, a forensic pathologist who is Trumbull County's elected coroner.
Three occupants of the car died at the scene of the Campbell crash: Elijah Paige of Campbell, the 20-year-old driver; Poetry Dotson, 21, of Campbell; and Ian Stores, 17, of Boardman. The lone survivor, Malquan Patton, 17, of Campbell, who was critically injured, remains in St. Elizabeth Health Center. No one in the house was injured.
A fire-storm of criticism from families of the deceased and others has been directed at Dr. Kennedy since Saturday.
Citing coroner's staff shortages from budget cuts, he refused to send anyone from his office to the scene and would not open his morgue to police to confirm identifications of the deceased for the families during the weekend.
Dr. Roger Marcial, Portage County coroner, and funeral directors J. Bradley McGonigle III and Russell Noga, coroners in Mercer and Lawrence counties in Pennsylvania, respectively, all said their offices would have been represented at a scene like the one in Campbell, and they would arrange weekend morgue access for police or fire officials wanting to confirm the identification of a deceased person.
"We do that routinely because the police need to know. Families need to know. You can't have a family held hostage by agony," Dr. Germaniuk said.
"The most important person in our office is not me, not the investigators, not the secretary; it is the patient [and surviving family members] because that is who we are here to serve. The minute you forget that, you might as well do something else," Dr. Germaniuk said.
Mahoning County commissioners will meet with Dr. Kennedy at 10:15 a.m. Friday to discuss his budget and last weekend's events.
Dr. Germaniuk said, in a small jurisdiction such as Campbell, he probably would have gone to the scene.
Dr. Germaniuk said he makes his go or no-go decision on "an index of suspicion that they may need a forensic investigator or myself to be there."
Had he gone to a scene, such as the one in Campbell, he might have helped verify who was driving based on evidence, such as a gas pedal or brake impression on the bottom of the driver's right shoe, he said.
In the recent seven-vehicle accident in Warren Township that killed three Marine recruits, however, he said he didn't go to the scene because he knew the Ohio State Highway Patrol, which specializes in motor- vehicle accident investigations, had full investigative capabilities at the scene.
Instead, he was at the morgue at Forum Health Trumbull Memorial Hospital when the bodies arrived for examination after the crash.
"I understand Dr. Kennedy's position that he can't be available 24 hours a day, seven days a week," said Atty. David Comstock, who also is fire chief of Western Reserve Joint Fire District, which serves the village of Poland and Poland Township.
"On the other hand, it does not seem unreasonable, in this particular case, to have assisted in identification for those individuals at some point over the weekend."
Dr. Kennedy's office spent $637,838 last year and his budget was cut by the county commissioners to $600,000 this year.
Dr. Germaniuk's budget was cut even more, from $673,000 last year to $601,000 this year.
Dr. Kennedy has a staff of seven, including himself, Dr. Joseph Ohr, the forensic pathologist and deputy coroner, who performs autopsies; three investigators, a secretary and a financial officer. One of Dr. Kennedy's three investigators will be laid off Friday.
Dr. Kennedy's office handles about 350 cases a year, of which about 220 are autopsied.
The Trumbull County coroner's office has handled between 213 and 271 cases annually in recent years, with 80 percent of them being autopsied, and Dr. Germaniuk performing most of them.
Dr. Germaniuk said he hasn't laid anyone off and doesn't plan any layoffs.
The Trumbull coroner said he stays within his budget by being frugal with utilities and office supplies, by selectively responding to death scenes to save time and mileage, and by being both the elected coroner and forensic pathologist. Besides himself, he has a staff of four investigators and a secretary.
When police or fire officials notify him of a death, Dr. Marcial of Portage County said he sends his chief investigator to survey the scene and call him from there before he decides whether he, too, needs to go to the scene.
Dr. Marcial said he goes to any homicide, suicide or "unusual scene."
The Portage County Coroner's office handles 100 to 110 death cases annually, of which 50 to 65 percent are autopsied, said Wayne Enders, office administrator. The office budget there has been cut from $330,000 last year to $306,000 this year.
Neither Marcial, nor McGonigle, nor Noga have a forensic pathologist on their staffs. Marcial sends bodies to Akron and Cleveland for autopsies. McGonigle sends them to Erie or Pittsburgh; and Noga sends them to Beaver Valley Medical Center or Pittsburgh for autopsies.
Ohio's elected coroners must be physicians, but they need not be forensic pathologists.
The elected coroners in 65 of 67 Pennsylvania counties need not be physicians. Philadelphia and Pittsburgh, however, have appointed medical examiners who must be physicians.
---
Here is how responsibilities are typically divided at a multiple-casualty accident scene such as the one Saturday in Campbell:
A call comes to the 911 center reporting the nature and location of the accident with injuries.
Fire, police and ambulance services respond simultaneously to the scene.
Police secure the scene and, if necessary, provide traffic control.
The fire department secures the vehicle; provides for scene safety if gasoline is leaking from the vehicle; extricates victims, removing anyone with signs of life first, to provide access to victims; and may also provide initial patient care.
Once access to patients is obtained through extrication, ambulance personnel begin treating the patient or patients.
Once all of the living patients are removed from the vehicle to be transported to the hospital, the coroner is called, typically by a paramedic, and notified of the deceased at the scene.
The coroner normally sends an investigator to the scene.
Police interview witnesses and perform their accident reconstruction to determine how the accident happened.
The bodies are removed to the morgue to await autopsy to determine the cause and manner of death.
Police call a tow truck to remove the vehicle from the scene to an impoundment lot to preserve the vehicle as evidence for future examination.
Source: Atty. David Comstock, Poland fire chief