Captain to file charge against Warren cop in force case
By ED RUNYAN
WARREN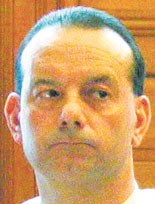 Photo
Warren Patrolman Jeff Hoolihan
Patrolman Jeff Hoolihan's division commander has upheld findings of an internal affairs investigation that found Hoolihan used excessive force March 26 when he ordered boys ages 7, 9 and 10 to the ground at gunpoint in their backyard.
Capt. Tim Roberts notified Hoolihan Tuesday that he is filing an administrative charge, and Hoolihan is invited to a hearing at 10 a.m. May 6 in police Chief Tim Bowers' office to discuss the charge.
Bowers will decide what punishment, if any, Hoolihan will receive after the hearing.
Roberts said Hoolihan violated a provision of departmental policy requiring officers to use only the amount of force necessary to handle a situation.
"Employees must weigh the circumstances of each individual case and employ only that amount of force which is necessary and reasonable to control the situation or person(s)," Roberts wrote in a memo to Hoolihan. "No employee will use unreasonable or excessive force toward any person."
Roberts added, "This agency recognizes and respects the value of special integrity of each human life. Investing police officers with the lawful authority to use force to protect the public welfare, a careful balancing of all human interests is required."
Sgt. Jeff Cole, internal affairs officer, found that Hoolihan left his police cruiser after seeing the three boys in a yard on Sarkies Drive near the Lincoln K-8 school who looked like they might be committing a robbery.
Hoolihan said the boys looked like teenagers, "stooped over," appearing to try to evade him, one of the boys was wearing a backpack, and Hoolihan was alone and in a neighborhood where he was not familiar with his surroundings.
Hoolihan said he "felt that his life was in jeopardy because he didn't know what he was getting into."
The boys told Cole in an interview that they saw Hoolihan while they were playing tag but did not run from him.
Hoolihan called for backup, found the boys and ordered them to the ground. He held them at gunpoint only until they were on the ground, Hoolihan said.
The boys were allowed to go inside their house after their father walked up and told Hoolihan they were his sons and in their own yard. The boys' parents, Anthony and Carolyn Simmons, filed a citizen complaint over the matter.
More like this from vindy.com