Penguins, Butler split twinbill at Eastwood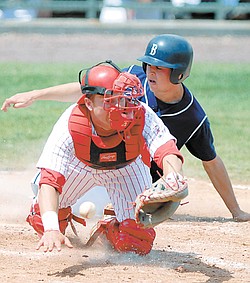 Photo
Butler's Andrew Eckhardt (2) comes into home plate to score as Youngstown State catcher Jonathan Crist (4) misplays the ball on a throw during a game Sunday at Eastwood Field. The teams played a twinbill, with the Bulldogs winning the first game, 9-8, and the Penguins taking the second, 10-6.
By CHUCK HOUSTEAU
NILES
Youngstown State University senior outfielder Tom Clayton can't put his finger on the reason that the Penguins haven't been able to put together much of a winning streak this season.
The Penguins (19-19,7-6) split a Horizon League doubleheader Sunday for the second time this weekend, losing 9-8 to Butler in the opener before earning a 10-6, rain-shortened, six-inning victory in the second game at Eastwood Field.
Friday, YSU split a doubleheader with Milwaukee.
"It sure does seem that way this year," said Clayton, a Poland High graduate. "We win one, lose one. That seems to happen all the time. We haven't been able to get all parts of our game in sync at once and put together a streak."
Although Clayton can't get a grip on the Penguins' ups-and-downs, he sure can grip a bat and has been on an incredible streak at the plate.
Clayton went six for nine against Butler, drove in six runs, scored three more and hammered a long home run to center field in the sixth inning of the second contest which
seemingly brought a downpour from the skies and eventually put a stop to play.
"I guess that was the exclamation point for our win," said Clayton who is batting .473. Clayton also has four home runs and batted in 27 runs in his 95 plate appearances.
"I've just felt real good up at the plate," Clayton said. "I'm seeing the ball well and I've worked hard with my coaches to make adjustments this year.
"Today was one of those days you love to have as a hitter."
The Penguins are on pace to shatter many offensive records this season, and already have scored more runs in 38 games than they had all last year.
Against Butler, YSU pounded out 20 hits to offset some lackluster pitching efforts.
YSU didn't seem to handle the early morning wake-up call well in a game that started at 10:15 a.m. because of the predicted afternoon storms.
The Penguins found themselves down 9-2 before their bats came to life.
Phil Klein (2-3) struggled in his four-and-two-thirds innings of work and gave up a grand slam to Butler's Kevin Crane which put the Bulldogs ahead 6-2.
YSU reliever Trent Woods up three more runs in the sixth inning before YSU started a comeback.
The Penguins scored four runs in the seventh inning against former Boardman High standout, Dom Silvestri.
The Penguins bounced right back in the second game by jumping on Butler starter David Dennemann and reliever Chase Byerly for two runs in the first inning and seven more in the second.
YSU pitched local standouts Corey Vukovic of McDonald and freshman Kevin McCulloh of Boardman to hold off the Butler bats in the nightcap. McCulloh (1-4) got the win by pitching three innings of one-run baseball.
"Kevin is going through an initiation phase as a true freshman and responded well," YSU coach Craig Antush said.