Mahoning coroner opted not to go to scene of triple fatal auto accident
YOUNGSTOWN — Dr. David M. Kennedy, Mahoning County coroner, said today that he was notified shortly after three people died in a car that crashed into a house in Campbell Saturday morning.
Campbell Tragedy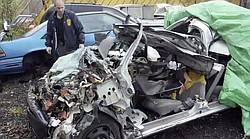 Video
Three people are dead after a Saturday accident in Campbell, OH.
He elected, however, not to go to the scene of the 5:03 a.m. crash himself or send Dr. Joseph Ohr, forensic pathologist and deputy coroner, to the scene, because he perceived it as an obvious auto accident death case for which a site visit was unnecessary.
Instead, Dr. Kennedy called a body-removal team to take the bodies, which firefighters had extricated from the wreckage, to the morgue at Oakhill Renaissance Place. The coroner ruled that the deaths were caused by a motor vehicle accident.
"It was an automobile accident. I don't think we were going to learn much from the scene besides what we got from the police investigation," Dr. Kennedy said.
As of April 19, Dr. Kennedy stopped sending his investigators to death scenes because of his budget being cut in the county's budget crunch. Coroners' investigations will begin the next business day, he said.
For the complete story, see Tuesday's Vindicator and Vindy.com