By Denise Dick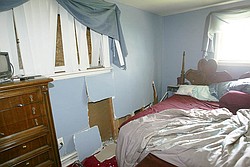 Photo
This is John Mrakusic's bedroom as it appeared Saturday after a car ran into his brick ranch house at 525 Cynthia Drive in Campbell. Three of the car's occupants died in the 5 a.m. crash.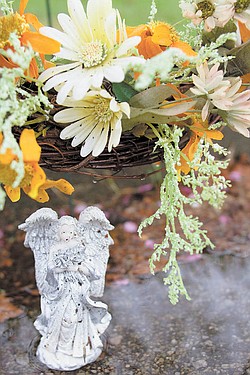 Photo
A wreath and an angel statue comprise a makeshift memorial where a car slammed into a Campbell home early Saturday, killing three of the car's four occupants. None of the identities has been released, but family members say one of the dead is Ian Stores, 17, of Campbell.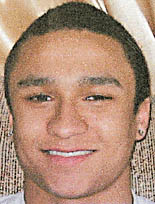 Photo
Probe awaits on 3 dead, 1 injured
By DENISE DICK
campbell
A memorial wreath and a small angel statue mark the place where a car crashed into a house over the weekend killing three of the car's four occupants.
Police haven't released any of the victims' names, but family members have identified one of the dead as Ian Stores, 17, of Campbell.
Victim identification is slowed by cutbacks at the Mahoning County Coroner's office.
Detective Sgt. John Rusnak said the Mahoning County Coroner's office didn't respond to the scene and won't open until today.
"It's terrible," Rusnak said. "You've got four families suffering and wondering whether their kids are alive or dead."
Police used photo identifications to make tentative identifications of the victims, but those can't be confirmed until the coroner's office reopens, the detective said.
Anthony Traficanti, Mahoning County commissioner, told Vindicator news partner, WFMJ TV 21, that Coroner Dr. David Kennedy should have responded himself.
"It's unacceptable," Traficanti said.
He said he would call for a meeting this week to discuss the issue among commissioners, Dr. Kennedy and Paul Gains, Mahoning County prosecutor.
Dr. Kennedy told the TV station that the problem stems from budget cuts and that he cannot be available 24 hours per day, seven days per week.
A woman at the scene at 525 Cynthia Drive Sunday afternoon said she knew only the driver of the car. She didn't want to provide her name but said that her boyfriend, who knew the driver from the time both were children, placed the angel there.
A fourth occupant of the car, a 17-year-old Campbell boy, was taken to St. Elizabeth Health Center where he remained in critical condition Sunday night.
Lillian Stores of Campbell is the grandmother of one of the people who died, Ian Stores. That identification wasn't confirmed by police, however.
"I cried all day yesterday," Lillian Stores said.
She said her grandson was a good boy who attended Boardman High School and worked two part-time jobs.
"He came to see me every day," Lillian Stores said.
She last saw her grandson Friday night when he and a friend stopped at her house to get something to eat.
"When he was leaving, I told him, 'You be careful and take care of yourself,'" she said. "He said, 'I will. I'll see you tomorrow.'"
Ian lived with her son, Dale Stores, who was the boy's uncle.
Dale Stores said he last saw his nephew Friday night after the two played basketball at Lillian Stores' home with two others.
They rode back to Dale Stores' home and Ian and a friend left for a walk.
"That's the last I saw him," Dale Stores said.
When he didn't hear from Ian later that night, he knew something was wrong.
"He always called me to say where he was at and when he would be home," he said. "When I heard about the accident, I knew he must be dead."
His nephew was a nice young man who recently had started boxing, he said.
Police said Saturday that two of the dead are from Campbell, and one is from Youngstown. Dead are a 21-year-old woman, a 17-year-old boy and an 18- or 19-year-old man, police have said.
The car was likely traveling at speeds of 80 mph to 90 mph at the time of impact, according to police.
Police on Sunday said there was no new information on the accident.
The homeowner, Jon Mrakusic, woke to a loud bang Saturday morning.
"I thought a tree fell," he said. "My girlfriend said, 'What was that?' I said a tree fell and she said, 'No there's a car.'"
The impact pushed the corner of the house off its foundation, broke all of the windows on that side of the house and pushed Mrakusic's bedroom furniture about a foot.
"I really feel bad for them," he said of those killed and their loved ones. "I empathize with all of them."
The accident knocked out Mrakusic's electricity and water service and rendered his bathroom inoperable. But Mrakusic and friends are staying at the home, relying on flashlights.
He credits his belief in a higher power with keeping he and his family safe.
Mrakusic expects a construction company to come to the house today to inform him about the extent of damage and required repairs.
Mahoning County Coroner Dr. David M. Kennedy announced earlier this month that because of budget cuts, his office would no longer respond to death scenes. He also laid off one of his three investigators.
Dr. Kennedy has said a body-removal service would go to death scenes and that his office's investigation would begin the next business day.