Kent State Shootings - 40th Anniversary
The Vindicator spoke with a number of people who were Kent State University students on May 4, 1970, some of whom witnessed the shootings. They offered their recollections and reflections of the event.
Jane Doughton May 4, 1970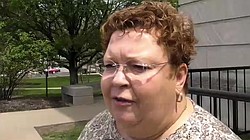 Video
Jane Doughton of Liberty was a student at Kent State University on May 4, 1970.
Harvey Kayne May 4, 1970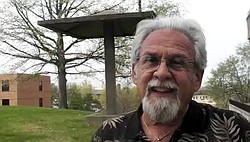 Video
Liberty resident Harvey Kayne was a graduate student at Kent State University on May 4, 1970 when 4 students were killed by National Guard gunfire.
JUNE DOUGHTON
"This has to be one of the saddest commentaries on our country. It's hard to believe this ever happened," Doughton said as she stood looking at a memorial to the four Kent State University students killed by the Ohio National Guard during an anti-war demonstration on campus May 4, 1970.
Doughton was a freshman journalism and English major from Liberty at that time and feature editor of the Daily Kent Stater, the campus newspaper. She still lives in Liberty and is now a nurse and seeking a master's degree in divinity.
She saw the National Guard headed onto campus on Saturday, May 2, and soon learned many students didn't like their presence.
"The kids were furious. This is like getting your home invaded," she recalled, adding that she believed a number of outsiders arrived fomenting trouble.
She recalled seeing perhaps 1,000 protesters May 2 chanting, "National Guard-off campus."
She didn't witness the May 4 shootings because she was in her dorm studying for midterm tests.
The shootings led to an incredible conflict with her parents over who was right and who was wrong, and she left Kent after her second year, she said, enrolling at Youngstown State University instead.
"We were all really depressed. Everyone was looking at their own mortality. We were all disenchanted, completely disenchanted," she said.
HARVEY KAYNE
Kayne, now semi-retired from psychology and counseling and living in Liberty, was a graduate student in the Department of Psychology in May 1970.
On Monday, May 4, he was handing out leaflets for a professor about a meeting when the shootings occurred.
"I'm not sure," he said, when asked exactly what happened, but he recalled seeing the guard sweep across part of campus, using tear gas to disperse demonstrators, some of whom were throwing rocks and pieces of concrete.
He didn't see any guardsmen hit by the debris and noted the closest demonstrator was perhaps 40 feet from the guard when the shots were fired.
He was on Blanket Hill when he saw members of the guard at the crest of the hill suddenly turn back toward the crowd and point their rifles in his direction and at the protesters.
Kayne said he heard gunfire and hit the ground. When the shooting stopped, he jumped and ran, he said.
"It affected me, at least psychologically, for a while," he said, explaining that he had a lot of bad dreams and difficulty sleeping.
He faults the guard leadership for what happened. The campus confrontation was no different from what had been happening at many places, he said, noting that he had been at the University of California at Berkeley in California during demonstrations in the 1960s.
Throwing rocks or bricks may have been wrong, but the guard at Kent had weaponry designed to kill, not control crowds, he said.
"They knowingly shot these people, some of them in the back," he said, adding no one was ever held accountable.
JOE CULLUM
Cullum, now living near Alliance, was a junior political science major from Canton in May 1970 and had been active in the anti-war movement, having participated in a demonstration in Washington, D.C., in fall 1969.
He also participated in a downtown Kent demonstration on Sunday, May 3, protesting the presence of the guard and the imposition of a curfew in the town resulting from trouble and property damage that had occurred two days earlier.
On May 4, he went to his morning classes and then headed to the area of the campus Victory Bell around noon for another demonstration.
The guard moved students from the location and followed them around Taylor Hall and down Blanket Hill. By the time the guardsmen started back up the hill, many of the demonstrators had gone, thinking the event was over, Cullum recalled.
He followed the Guard up the hill and was directly behind them when they turned and fired, he said, adding that he assumed they weren't using real bullets. He dropped to the ground, got up after the shooting stopped and soon realized the ammunition was real.
He saw a student, later identified as John Cleary, who had been shot in the chest and stopped to help administer first aid. Cleary survived.
Cullum said he wasn't aware of any outside agitators coming to campus. The people he saw leading the demonstrations were all people he'd been seeing on campus for some time, he said.
Cullum was one of the Kent State 25 — 24 students and one professor —indicted by a Portage County grand jury on riot charges. Six people were acquitted, one pleaded guilty to another charge and the charges against the remainder, including Cullum, were dropped, he said.
"It was pretty traumatic," he recalled, noting that he knew Jeff Miller, one of the students killed, and he knew a couple of the people injured. He said the event made him aware of the extent to which government will go to control dissent.
He's a social studies teacher at Minerva High School now and teaches a section on dissent, civil disobedience and First Amendment rights about this time each year.
LINDA BOHANNON-WHITE
Linda Bohannon was a senior education major from Elyria in May 1970. She later taught school in the Youngstown system, retiring in 2000, but remains a part-time employee there.
She said she wasn't involved in any of the demonstrations but narrowly missed being caught up in the May 4 shootings.
"I overslept," she recalled, adding that, if she hadn't, she would have been passing through the area of the confrontation right about the time the Guard opened fire.
Some of the guardsmen were students or former students at Kent, and things had seemed relatively peaceful on May 3, she said.
"It just wasn't real," she said of the shootings. "I think they [government officials] politically just wanted to make an example."
She said she was surprised by the National Guard's arrival on campus.
"Why would you let it get that far?" she asked, suggesting the campus could have been shut down over the weekend, thus avoiding the Monday confrontation May 4.
One lesson she learned is that "You're never safe, no matter where you are." The event made her value life more, she said.
SUSAN NIPPELL STODDART
Susan Nippell was a senior education major from Howland in May 1970.
She was off campus doing student teaching on May 4, but she was aware before that that Kent was expecting trouble.
She was dorm president of Van Campen Hall and recalled that dorm presidents were given "riot training" as the university was concerned about "bus loads of blacks coming down from Detroit and causing trouble," a concern that was never realized.
Had she been on campus that day, her dorm president duties would have required her to try to round up students who lived in Van Campen, putting her in the middle of Blanket Hill.
She didn't go back to campus and didn't attend commencement that spring. She didn't set foot on campus again until fall 1970 to begin working on a master's degree.
"Even after almost 40 years I can still barely stand hearing the song "Four Dead in Ohio," and I really don't like movies with a lot of violence, since that day," she said.
She taught special education in Warren for 28 years and is currently director of religious education at Central Christian Church. She and her husband also operate a garage/moving/estate sales business.
"It has long been my contention that there was more trouble on the campus of Ohio University and Ohio State than at KSU but that was too close for Gov.
Rhodes to send in the troops so he selected Kent to show who was boss. The fact that he sent young troops, not much older than the students, armed with real ammunition showed his disdain for college students," she said.
LESLIE HOWARD VICZAY
Leslie Howard, now a retired school teacher and attorney, was a senior history and political science major from Poland in May 1970.
She said the arrival of the National Guard on Saturday, May 2, was "very nightmarish" with helicopters and what she thought were tanks everywhere. The tanks turned out to be armored personnel carriers.
She was working off-campus in a high school cafeteria when word on the May 4 shootings reached her and recalled that the initial report was that two Guardsmen and two students had been slain.
"I don't think it needed to happen," she said, adding that she faults former Gov. James Rhodes for "trying to make some political hay with conservatives."
She left campus and didn't come back for graduation, though she returned later to earn a master's degree.
She said she and Sandra Scheuer pledged the same sorority, Alpha Xi Delta, in spring 1968. She remembered Scheuer as being smart and funny. Scheuer was one of the students killed.
"She was the clown in our pledge class," Howard Viczay recalled.
The events made her understand people in traumatic situations a little better, she said, noting that she and a girlfriend, a fellow Kent grad, went back for the 20th anniversary of the shootings and may go back this year for the 40th.
"It never leaves you totally," she said.
KATHLEEN ROSENTHAL HUMPHREY
Kathleen McGranahan was a sophomore English major from Palmyra, Ohio, in May 1970 and recalled that she saw open military trucks loaded with armed soldiers on the road in front of her as she returned to campus on Sunday, May 3, after visiting home.
The campus "looked like a war zone" that night, with helicopters flying close to the dorms and soldiers lining walkways holding guns topped with bayonets.
She was in a language lab studying for a French exam the next day, May 4,when a woman professor rushed in crying hysterically and shouting that the Guard was shooting at students.
People were running and screaming through clouds of smoke and tear gas, she said.
Back at her dorm, more than a mile form the scene, a friend had been standing at a floor-to-ceiling window waiting for her to come back for lunch when a stray bullet came through the window a foot above her head and lodged in the wall, Rosenthal Humphrey said.
"The campus was a war zone. American students became the enemy. Innocence and idealism were lost," she said.
This created a situation she hadn't anticipated, and something happened that shouldn't have happened in America, she said.
The campus was closed and students packed and went home.
"Many of us never returned to KSU again," she said, adding, "I am one of them."
She transferred to Youngstown State University to earn a degree and now lives in Miami, Fla., where she teaches high school.