Officials get a look at 2011 Cruze
By MARC KOVAC
news@vindy.com
COLUMBUS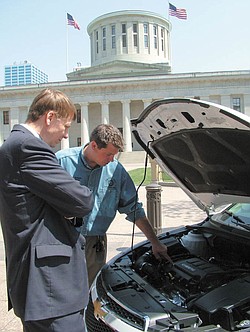 Photo
Ohio Attorney General Richard Cordray, left, listens as David Green, president of United Auto Workers Local 1714 in Lordstown, describes the inside of a Chevrolet Cruze at an Earth Day press conference in front of the Statehouse.
The 2011 Ohio-made Chevy Cruze won't be available to purchase until later this year, but a test model of the vehicle made an appearance Thursday at the Ohio Statehouse as part of Earth Day festivities, giving lawmakers and state officials a chance to see it up close.
"This rolled off the line this week in Lordstown," said Dave Green, president of UAW Local 1714, representing 1,300 active and about 3,000 retired autoworkers.
He added later, "And Ohio should be really excited about the jobs that this car is going to bring."
The body of the new Cruze will be made at the GM metal-stamping plant in Lordstown. The 1.4-liter, high-efficiency motor is being manufactured at a plant in Defiance.
The transmission is coming from Toledo, the wheels are coming from Cleveland, and the steel used in the car is coming from Middletown.
Green was one of the speakers at the Statehouse Earth Day celebration Thursday, which organizers used as a call to office-holders to take action on environmental public policy.
And the Cruze's contribution to environmental stewardship?
"We will beat [federal fuel-efficiency] standards with this new car," Green said.
"It really is a new GM with cars like the Cruze Eco, [which] is going to boast 40 miles per gallon on the highway, batteries not included. ... It's going to be getting hybrid-type mileage [with] straight gasoline."
The vehicles should be available in showrooms by September.
The car driven by Green from Lordstown to the Statehouse was a nonsellable test unit.
"The General Motors Lordstown facility is the pride of the Mahoning Valley and certainly the pride of Trumbull County," said state Senate Minority Leader Capri Cafaro, a Democrat from Hubbard.
"It is a job creator and now is on the forefront certainly of creating
fuel-efficient vehicles that are, I think, very cost competitive for our consumers to buy."
SEE ALSO: Cruze control.