Girard rallies for AAC victory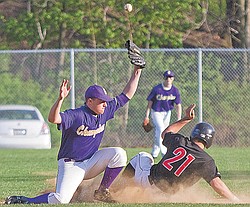 Photo
Champion's Billy Wartz (12) bobbles the ball, allowing Girard's Michael Floravit (21) to slide safely into second base in the bottom of the sixth during Wednesday's game in Girard. The game was tied 4-4 until the bottom of the fifth when a single by Aaron Jennigs put the Indians ahead 6-4. They went on to win 7-4.
By Jim Flick
GIRARD
In game that fell in and out of Girard's grasp, the Indians took a 3-0 first-inning lead over visiting Champion but had to score three runs in the last two innings to capture a 7-4 baseball victory on Wednesday.
In between, Champion scored four runs in the fourth and fifth innings to tie the score at 4.
In fact, Champion out-hit Girard (11-5, 4-1 All-American Conference Blue Tier), collecting 10 singles compared to only seven hits for the Indians. But Girard's hits included a double by first baseman Aaron Jennings and a triple by winning pitcher Joe Cavalier.
"It's good to get the monkey off our back," said Jennings, pointing out that Champion (3-9, 1-3) had defeated Girard four times in the previous two seasons.
"It feels really good."
Jennings' double in the first inning drove in two runs to give Girard a 3-0 lead. His fifth-inning single put the Indians in front 6-4.
"We finally beat them," added Jennings, who played a key role in the Indians' offense with three RBIs.
Girard coach Jason Johnson was more subdued in assessing the win.
"We didn't really take advantage of a lot of opportunities we had to score runs. But when we needed to, we got the runs.
"The kids did a nice job, but we need better situational hitting."
After taking the early 3-0 lead, Johnson added, "We kind of fell apart. But the kids bounced back. They buckled down and made the plays we they had to."
The Indians "took advantage of our errors," said Champion coach Tim Cope. "We hit the ball well, but they made some fantastic plays in the field."
Champion's starting pitcher, Cotton Greathouse, went the distance and "did a nice job on hill," Cope said. "It came down to a few mistakes we made that made the difference."
Girard center fielder Michael Floravit started the Indians' first inning with a single, then stole second.
After Dante Del Bene and Joe Augustine walked to load the bases, Floravit scored on a sacrifice fly by Tallen Birmingham.
Jennings then smacked a double to put the Indians in front 3-0.
Champion struck back in the fourth, scoring two runs on singles by R.J. Schwab and Kyle Skaggs.
Girard made it 4-2 in the fourth when Cavalier's triple scored A.J. Weibel.
But Champion evened the score an inning later when Bill Yartz and Shane Brown both singled, then scored on a sacrifice by Greg Culp and a single by Greathouse, respectively.
Girard's winning rally started when Augustine reached base on an error and advanced to third on Birmingham's single. After Birmingham stole second, Jennings' single scored Augustine and Brandon Hunkus had a run-scoring single.
Floravit scored Girard's final run in the sixth. He singled, stole second and came home on an error.
Girard starter Patrick Rhodes left the game in the fifth with the score tied. Cavalier (2-) finished to earn the win.