Candidates hit the airwaves at Youngstown Sports Grille
By DAVID SKOLNICK
skolnick@vindy.com
BOARDMAN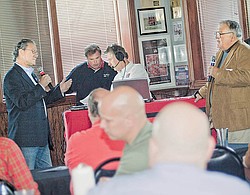 Photo
State Rep. Robert F. Hagan, left, and Don L. Hanni III, right, his Democratic opponent in the 60th Ohio House District primary, discuss their qualifications during a candidates forum sponsored by WKBN radio. WKBN talk-show hosts Ron Verb, second from left, and Dan Rivers helped organize Wednesday's event.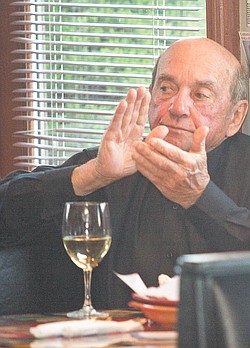 Photo
Don Woomer watches and listens as political candidates discuss issues at the candidates forum.
If you're running for any elected office this year, all you had to do was give your name, wait a bit and then talk into a microphone.
Candidates who showed up at the Youngstown Sports Grille on South Avenue in Boardman were given an opportunity to tout themselves Wednesday to the listening audience of 570 AM WKBN radio.
The format was informal.
"We want to give every candidate an opportunity to speak," said Dan Rivers, who hosted the event.
Rivers is WKBN's midday talk show host and director of operations for Clear Channel in Youngstown.
Among those speaking was John K. Fockler Jr. of Boardman, the Libertarian Party candidate for the 33rd Ohio Senate District seat.
"We are grateful for equal access to speak," Fockler said. "It rarely happens for [Libertarians] and we're appreciative of being allowed to speak."
About 75 people attended the event. Nearly all of them were there to support certain candidates.
There was a lively discussion between state Rep. Robert F. Hagan of Youngstown, D-60th, and Don L. Hanni III, his opponent in the May 4 Democratic primary, about the former's effectiveness in the state Legislature.
Throughout the discussion, Rivers called Hagan a "senator." Hagan served as a state senator for 10 years, but has been in the Ohio House since January 2007. Hagan said he liked being called "senator" so he didn't bother correcting Rivers.
Rivers got a mix of applause and boos when he asked if there were any members of the TEA [Taxed Enough Already] Party movement. Rivers hosted a TEA Party event last week in Canfield.