Lenhoff to plead guilty to charge
By DAVID SKOLNICK
YOUNGSTOWN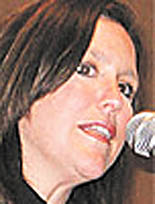 Photo
Despite his estranged wife's plan to plead guilty Monday to a misdemeanor ethics charge, former Attorney General Marc Dann insists the two did nothing wrong.
Alyssa Lenhoff, who filed for divorce last week, said she will plead guilty to a charge of having an unlawful interest in a public contract. She is cooperating with an investigation into the attorney general's office during Dann's 17 months there.
"I remain confident that no crime was committed in this particular instance or in any other respect," Dann wrote in a Tuesday e-mail to The Vindicator.
The Ohio Ethics Commission filed the criminal complaint against Lenhoff on Monday in Franklin County Municipal Court in Columbus.
The complaint states Lenhoff attempted to secure a $6,500 grant from the attorney general's office — while Dann, a Democrat from Liberty, served as attorney general — to fund a "cold-case" course at Youngstown State University, her employer. Lenhoff was to be an instructor for the program.
"While a public official, [she] knowingly [had] an interest in the profits of a public contract entered into by a government agency," the complaint reads.
Lenhoff, YSU's journalism director, said she will plead guilty to the charge and won't comment further until after the case is resolved at a Monday court hearing.
The complaint states that between April 18, 2007, and Feb. 28, 2008, Lenhoff was involved in attempting to get the YSU program funded through the attorney general's office.
The attorney general's office awarded the $6,500 grant to YSU on Jan. 31, 2008, and then canceled the grant on Feb. 28, 2008.
There were numerous discussions between Lenhoff and Edgar C. Simpson, Dann's chief of policy and administration, during that time about the grant, said David Freel, the ethics commission's executive director.
YSU received approval for the funding, but a member of Dann's administration told the then-attorney general it would be a conflict of interest to award the grant to the university, said Freel, who didn't identify that administrator. Dann then canceled plans to give YSU the money, Freel said.
Dann disputes that.
"I personally turned down that grant despite the fact that lawyers in the [attorney general's] office had approved it," he wrote in an e-mail Tuesday.
Ruth Wilkes, the former Poland mayor who served as director of grants management during Dann's administration, told The Vindicator on Tuesday that she was on a six-member committee that approved small financial grant proposals, including the one for YSU.
"We loved the concept of a cold-case course" and recommended the proposal, said Wilkes, a former YSU trustee and employee.
Shortly after recommending YSU get the money, Wilkes said Dann personally called her into his office.
"He laid into me and yelled at me like few people have done," said Wilkes, the wife of Michael Harshman, Dann's close friend and personal attorney. "He was very, very professional, but he said, 'We can't do this.' I was taken aback."
YSU Provost Ikram Khawaja asked the university's 12-member professional conduct committee last week to review the Lenhoff case, said Ron Cole, a YSU spokesman. The committee reviews issues related to the conduct of faculty and administrative staff. The committee will determine whether any disciplinary action will be taken against Lenhoff, Cole said.
Lenhoff has kept the university's administrators informed of the ongoing investigation "for some time," Cole said.
"I deeply regret the pain and adversity that this entire situation has caused Alyssa and our children," Dann said.
The Franklin County Prosecutor's Office and the ethics commission are continuing to investigate Dann for potential criminal prosecution.
The last target on the investigators' list is Dann, who resigned May 14, 2008, 12 days after an internal attorney general report sharply criticized his administration for cronyism, unprofessional behavior and sexual harassment.
Three of Dann's top officials when he was attorney general, including Simpson, have been found guilty of various ethics charges in Franklin County Municipal Court. The three are cooperating with prosecutors.
Dann is the only remaining name still under investigation who was listed on a December 2008 report by the ethics commission about potential criminal conduct at the attorney general's office.
The report states Dann is being investigated for the questionable use of his campaign fund and a transition account that raised money for the time between November 2006 election and his January 2007 swearing-in as attorney general.