Shooting of OSU recruit probed
Staff report
YOUNGSTOWN
Unidentified assailants opened fire on former Ursuline High School football player Jamel Turner and two others, according to a police report.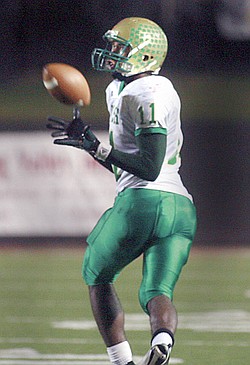 Photo
Jamel Turner catches a pass during a game against Cardinal Mooney in October 2007.
Turner, 18, of Orion Avenue, told police he was riding southbound in a vehicle just after 11 p.m. Friday on Interstate 680 near the Williamson exit when a dark car with tinted windows pulled alongside their vehicle and began shooting.
Turner suffered a gunshot wound to the lower left ankle and another to the right hip, and neither was a life-threatening injury, according to a police report.
The driver of the vehicle, a 32-year-old Ferndale Avenue man, suffered a gunshot wound to the hand.
An 18-year-old Orion Avenue male, who was in the vehicle but wasn't injured, told police they didn't recognize the assailants' car and couldn't think of anyone who would want to hurt them.
During a search of the victims' vehicle, two handguns were located along with a bag containing suspected marijuana and another bag with three pills, according to the report.
Police searched the area for evidence of the shooting but found none, according to the report.
In his junior season at Ursuline, Turner was a defensive lineman on the 2008 Division V state championship team, recording 18 sacks, according to Vindicator archives. In December 2008, he was the first player to commit to Ohio State's 2010 recruiting class.
Not long after that, Ursuline basketball coach Keith Gunther kicked him off the Irish team. By the end of his junior year, Turner was academically ineligible to play sports at Ursuline. He transferred to Fork Union Military Academy in rural Virginia.