IN FOCUS: Historic corner store
Story and Photos by Lisa-Ann Ishihara
IN FOCUS: The Greenford Cupboard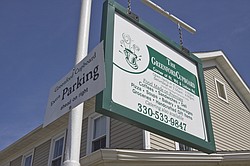 Gallery
lishihara@vindy.com
SALEM
The Greenford Cupboard is a quaint deli/corner store that gives you that hometown feeling, no matter where you are from.
Terri and Jim Hauser purchased the property at 11975 Lisbon Road in Salem in 2002 from the Puhalla family. The building has provided a general store to the area since the early 1800s under various owners and names.
This May marks The Greenford Cupboard's seventh anniversary.
The business makes a variety of fresh sub sandwiches ranging from tuna salad to cheeseburgers and grilled sandwiches, such as a Reuben or beef fajita.
Two years ago, the store began offering catering with main dishes including DiRusso's Italian Sausage and Chicken Marsala. Local crafts and foods are stocked, and classic memorabilia are sold.