Pavlik-Martinez Fight Night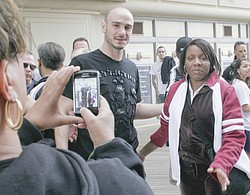 Gallery
Pavlik Loss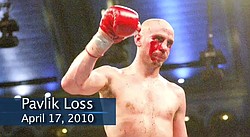 Video
Kelly Pavlik lost to Sergio Martinez in Atlantic City April 17, 2010. Trainer Jack Loew and Top rank's Bob Arum talk about the loss.
Pavlik Fans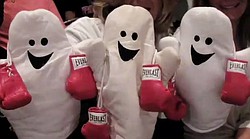 Video
Mahoning Valley fans made the trip to Atlantic City to cheer on Kelly "The Ghost" Pavlik
In 12-round battle, Martinez outlasts Ghost
By Joe Scalzo
ATLANTIC CITY, N.J.
This time there were no excuses. No injuries. No blaming it on bronchitis or a staph infection or a bad night at the office.
Kelly Pavlik came into Saturday's fight as the world's best middleweight and left with two bloody eyes — and two fewer titles.
Thanks to a dominating performance over the final four rounds, Sergio Martinez won a unanimous decision to end Pavlik's 21'Ñ2-year reign in front of 6,179 fans at Boardwalk Hall.
Roberto Ramirez scored it 116-111, Barbara Perez had it 115-111 and Craig Metcalfe had it 115-112, all for Martinez. The Associated Press also scored it 115-112. The Vindicator scored it 115-113.
"He was a smart fighter," said Pavlik, who fought the final four rounds with considerable blood around both eyes that spilled onto Martinez's back. "He doubled up on the jab a lot after he cut me. I just couldn't get anything going after the eighth or ninth round."
Pavlik (36-2), normally the aggressor, was stymied by Martinez's superior speed and boxing ability. Outside of a few middle rounds, Martinez repeatedly danced out of trouble and flicked both hands into Pavlik's face, bloodying both eyes.
Pavlik's cut man, Sid Brumbuck, said Pavlik would need a dozen stitches to close the inside of the eye and at least two dozen outside.
"He didn't hurt me but he cut me," Pavlik said. "He found a rhythm and smelled the blood."
Martinez told reporters before the fight he planned to take control in the ninth round and followed through. He connected on 112 punches over the final four rounds, compared to 51 for Pavlik.
"It was a 12-round fight and I knew it would go the distance," said Martinez, who was knocked down in the seventh round but never hurt. "I knew at the end I had to close strong.
"It was a 12-round plan and since I am the visitor, I knew it would be hard to win a decision."
It was the second defeat of Pavlik's career and first at middleweight. His earlier defeat was against Bernard Hopkins, a fight Pavlik fought at less than 100 percent due to an elbow injury and a bout with bronchitis.
Even though Martinez was moving up from junior middleweight and was at a size and strength disadvantage, he fought a tactically smart fight, refusing to stand in the middle of the ring and trade punches with the slugging Pavlik.
Pavlik, who weighed 178 pounds to Martinez's 168 at the start of the fight, had opportunities to corner Martinez on several occasions but couldn't shrink the ring.
"In the last third of the fight, around the eighth or ninth round, he began touching me a lot," Pavlik said. "I tried but it was very hard to come back after him.
"I couldn't see out of my right eye after he cut it in the eighth or ninth round. I could not see his left. I wasn't hurting but he just had a lot of volume of punches."
Pavlik landed just 164 of 533 punches, including just 87 of 194 power shots. It was a baffling performance by the normally active Pavlik, who usually tries to throw about 80-100 punches per round. Martinez landed 230 of 686 punches and 172 of 384 power shots.
"After the eighth round, it seemed like he just gave it away," said Pavlik's trainer, Jack Loew. "He couldn't turn it around and I don't know why."
Martinez, a native of Argentina, said the win brought pride to him and his country.
"When the last bell rang," he said, "I knew I was the new world champion."
Pavlik, who made $2.5 million for the bout compared to $1 million for Martinez, has a rematch clause.
When asked if he plans to activate it, Pavlik said, "I hate losing. I want to get those belts back."
When Martinez was asked whether he'd like a rematch with Pavlik or Paul Williams, who defeated him in December, he said, "I would fight whoever.
"It is a great honor for me and my country to fight fighters like this."
Pavlik was making his fourth title defense — and his fourth career appearance at Boardwalk Hall.
Martinez was best known for losing a majority decision to Williams in December in the Boardwalk Hall ballroom. Saturday's fight was the first in Boardwalk Hall's main arena since Pavlik's loss to Bernard Hopkins in October of 2008.