HAPPY 100TH BIRTHDAY: Julia Cost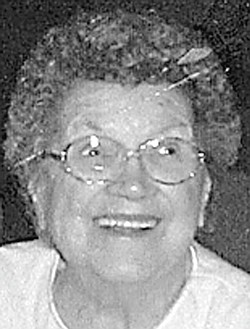 Photo
Born: Julia Kowalchik, April 6, 1910, in Conamaugh, Pa.
Parents: Julie and Michael Kowalchik.
Residence: Has lived in Niles more than 80 years.
Married: Nick (Constantino) Cost on Dec. 29, 1928; he died in 1979.
Children: Helen Cost Kaniclides, Gus Cost and George Cost.
Extended family: Has eight grandchildren, six great-grandchildren, and one great-great-grandson.
Activities: Enjoys cooking, baking and spending time with the youngsters in the family. Is a member of Niles SCOPE, the Leisure 39er's and St. Demetrios Church.
Celebration: Friends and relatives honored her at a party on Dec. 3 at Vernon's Caf in Niles. On March 30 she was feted by the Leisure 39er's at a party at Amen Corner restaurant in Girard, and on April 7 her birthday was celebrated by Niles SCOPE at the center.