Marc Dann's wife files for divorce
By DAVID SKOLNICK
LIBERTY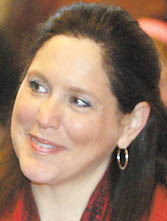 Photo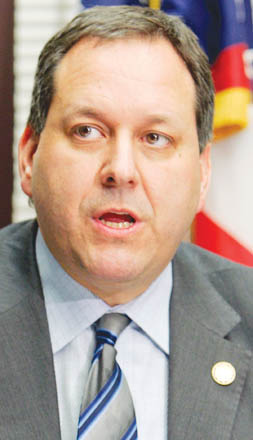 Photo
AP
Former Ohio Attorney General Marc Dann
The wife of former Attorney General Marc Dann, who admitted an extramarital affair while he was in office, has filed for divorce.
Alyssa Lenhoff, who married Dann on Aug. 30, 1987, filed divorce papers Thursday in Trumbull County Domestic Relations Court.
"After many months of living apart, Marc and I have decided it is in everyone's best interests to make our separation permanent," Lenhoff wrote in a prepared statement Thursday to The Vindicator.
Dann declined to comment Thursday in an e-mail to the newspaper.
The divorce filing comes as the two face an investigation into potential criminal charges during Dann's tenure of less than 17 months as attorney general.
The statute of limitations on any misdemeanor crimes against the two expires May 14, two years after Dann resigned as attorney general.
The two, who live in Liberty, will share custody of their 15-year-old daughter, according to Lenhoff's court filing. Their 18-year-old son will graduate from high school in June and is "considered an emancipated, self-serving adult for purposes of this litigation," according to the filing.
"Differences have arisen between the parties, making them incompatible, one with the other, which has made the continuation of their marital relationship unendurable," Lenhoff's court filing reads.
In her prepared statement, Lenhoff wrote: "Marc and I intend to remain cooperative in order to serve the best interests of our wonderful children. Our children remain the top priority of both of our lives. During this extremely personal chapter of my often-public life, I respectfully request that everyone appreciate my family's need for privacy and continued healing."
Lenhoff, Youngstown State University's journalism director, wrote that the statement would be her only comment on the divorce filing.
Dann, a Democrat, resigned May 14, 2008, 12 days after an internal attorney general report sharply criticized his administration for cronyism, unprofessional behavior and sexual harassment.
Dann told The Vindicator on May 2, 2008, the day the report was released, that he had an affair that went on for several months with Jessica Utovich, who served as his scheduler at the attorney general's office.
In an interview with The Vindicator last May to mark the one-year anniversary of his resignation, Dann said he quit to concentrate on repairing his family life.
"I had broken my trust with my wife," he said. "I had much work to do to repair that relationship."
Three of Dann's top officials when he was attorney general have been found guilty of various ethics charges in Franklin County Municipal Court. The three have agreed to cooperate with prosecutors.
Dann and Lenhoff are the only remaining names still under investigation who were listed on a December 2008 report by the Ohio Ethics Commission about potential criminal conduct at the attorney general's office.
The report states Dann is being investigated for the questionable use of his campaign fund and a transition account that raised money for the time between November 2006 election and his January 2007 swearing-in as attorney general.
Investigation documents also question Lenhoff's involvement in attempting to secure a $6,500 grant from the attorney general's office to fund a "cold case" course at YSU, her employer.
In e-mails last month, Dann and Lenhoff wrote they didn't do anything that violates the law.
More like this from vindy.com