Candidates for commissioner agree and disagree
By PETER H. MILLIKEN
YOUNGSTOWN
Mahoning County Commissioner David N. Ludt and his Democratic primary challenger, Carol Rimedio-Righetti, agree that it's essential the voters renew the county's half-percent sales tax for five years on May 4.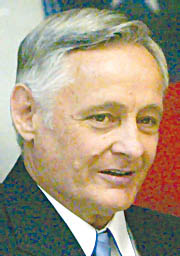 Photo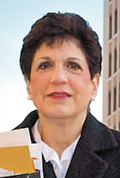 Photo
Candidates at a glance
David N. Ludt
Residence: Poland.
Education: Poland Seminary High School graduate.
Employment: Three-term Mahoning County Commissioner.
Family: Wife: Sharon; daughters, Dianne and Lisa.
Qualifications: 47 years as owner of Ludt's Towing; 20 years as a Poland Township trustee.
Priorities: Completion of Oakhill Renaissance Place as a one-stop shop for government services, renewal of the sales tax, keeping the county jail functioning, obtaining more federal and state funds.
Carol Rimedio-Righetti
Residence: Youngstown
Education: Ursuline High School graduate, attended Youngstown State University.
Employment: Second-term city councilwoman, 4th Ward.
Family: Husband, Frank J. Righetti Sr.
Qualifications: Past chairwoman of council's finance committee; retired clerk at the county board of elections; 40 years experience working with government.
Priorities: Establishment of a comprehensive, five-year economic development plan and of a county grant application writing department, and offering retirement incentives to county employees.
Source: The candidates
But they disagree on why its renewal is uncertain.
"It is the fairest tax. ... A half a percent, which is only 5 cents on a $10 bill, is fair, and it has to be passed," said Rimedio-Righetti, who is Youngstown's 4th Ward councilwoman.
"The reason there's a problem with this is because of lack of confidence in Mahoning County government," she added.
Ludt, who is seeking his fourth, four-year term as a county commissioner, said passage of the sales tax is uncertain because "the economy is pretty much in the tank."
Ludt said it's vital to convey the message that the tax is a renewal and that its passage is "a quality-of-life issue."
The tax funds the county jail, the courts, the prosecutor's office, the board of elections and many central functions of county government.
When asked whether he'd vote to impose the tax if it fails in May, Ludt said, "I would make sure that we had a 3-0 vote before I voted on it."
If his colleagues, Anthony T. Traficanti and John A. McNally IV, would favor imposition, Ludt said he'd join them in imposing the tax.
Imposition of the tax by the commissioners can only occur if all three commissioners agree on it, and then, it would only be imposed for one year, Ludt said.
Concerning another issue, Rimedio-Righetti and Ludt disagree on how communities within the county should subsidize the jail's operation.
Rimedio-Righetti said she doesn't favor an extension of Youngstown's $80-per-inmate-per-day subsidy beyond its 71st misdemeanor prisoner, which expired in February, because other communities have not provided a similar subsidy for their inmates.
She said, however, she believes a uniform surcharge on all communities for each prisoner they send to the county jail is fair.
"They don't even want to pay us a dime for their prisoners," Ludt said of Youngstown officials.
Ludt said the cities of Akron and Warren pay a subsidy to their county jails, but he said townships can't legally be forced to pay for their inmates.
Rimedio-Righetti and Ludt also have differing views concerning Oakhill Renaissance Place, the former Forum Health Southside Medical Center, which the county bought four years ago in U.S. Bankruptcy Court.
"It's going to be a true one-stop shop when I'm done," Ludt said. He explained that he looks forward to all county offices now at the South Side Annex on Market Street joining the county's Department of Job and Family Services, Veterans' Service Commission and coroner at Oakhill.
Rimedio-Righetti said she believes it was necessary to move JFS out of Garland Plaza on the city's East Side, but she would have preferred to relocate that agency to a new downtown building.
"I just hope it's not a money drain for us," she said of Oakhill. She added, however, "We have it now. We have to make it work. If you're going to have that building, you should put everybody there."
Ludt cited unsatisfactory conditions, including a leaky roof and inadequate security, at JFS' former rented quarters at Garland Plaza, and said the state and federal governments will reimburse the county for renovations made to accommodate JFS at Oakhill.
The county's occupancy costs for JFS at Oakhill are about equal to those it incurred at Garland Plaza, Ludt added.