Work gets started on YSU's WATTS Center
By Joe Scalzo
YOUNGSTOWN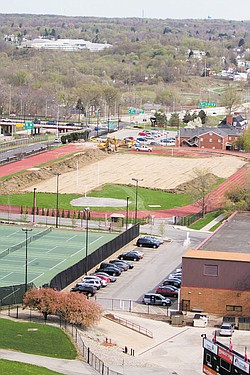 Photo
Youngstown State University began preparing for the WATTS Center, background, on Monday. The university hopes to have the facility completed by the end of this year.
Youngstown State University got started on its groundbreaking new indoor facility Monday, even if the official groundbreaking is at least a few weeks away.
Construction began on the $10 million WATTS (Watson and Tressel Indoor Training Site) Center, which will be built on the site of YSU's outdoor track.
University officials hope the facility will be finished by the end of the year. The 125,000-square foot building will have a football field, a track, batting cages, training rooms and offices.
"The joke was that the facility would have something for every team but swimming," said Matt Morrone, YSU's athletic business manager. "But even they can use it to run in the offseason."
The school has secured about half the funding for the project, Morrone said. The first $1 million was donated in 2007 by former YSU football coach Jim Tressel, his wife Ellen and Frank and Norma Watson.
"Obviously if anyone is still willing to give, we're more than willing to accept," Morrone said, chuckling.
YSU will be the first school in the Horizon League with an indoor facility, which will allow the Penguins to host the indoor conference track and field meet, as well as area high school indoor meets. It will also be a big tool in recruiting, Morrone said.
And while the WATTS is closely associated with football, the facility will be available for regular students and faculty, too.
"It's really great for the whole university, not just athletics," Morrone said.
YSU plans to hold the official groundbreaking at a later date. The school wants Tressel to attend but the Ohio State football coach is currently unavailable due to the Buckeyes' spring practice.