Warchol, Mooney stop rival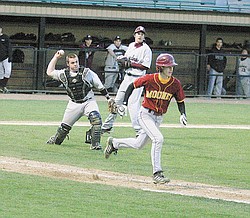 Photo
Boardman catcher Dan Popio, left, throws out Dan Reese of Cardinal Mooney at first base during Monday's game at Cene Park.
By CHUCK HOUSTEAU
STRUTHERS
The only thing Cardinal Mooney High pitcher Mark Warchol wanted to do more than quiet the Boardman student section was to silence the Spartans big hitters.
While Warchol didn't completely shut down Boardman's offense, he was sharp enough to keep the Spartan hitters off balance in leading the Cards to a 12-4 victory at Cene Park on Monday.
"This is still a big game for us," said Warchol who improved to 4-0 on the mound this season. "They had a pretty big student section and they were yelling some things that didn't really need to be said. I'll just say the rivalry is pretty big."
Warchol scattered nine hits and only struck out one batter but he was able to keep the Spartans from mounting any serious threats after Boardman jumped out to a 2-0 first inning lead.
"Boardman was definitely the best hitting team I've faced all year," said Warchol. "We did enough to get the job done tonight. I was a little shaken up there in the first but we came back and did what we had to do to win."
The Cardinals' offense erupted for eight runs in the third inning against Boardman starter John Fithian to erase the deficit and take control of the game.
"We got the bats going in that third inning," said Mooney coach Al Franceschelli. "We've been hitting the ball well and tonight you saw that.
"We got a lot of timely hitting."
Junior Boo Vazquez led Mooney with four hits, including two doubles and an RBI. Taylor Callahan had two hits and three RBIs while Dan Dougherty and Dante Lewis each had a pair of hits.
Ryan Gallagher also had two hits, including a single that drove in two runs in the big eight-run third inning.
"Our kids were definitely up for this game," said Franceschelli. "They hang around with a lot of those kids and it's still Mooney-Boardman.
"There's a lot of rivalry here."
Franceschelli praised the work of Warchol who has been Mooney's number-one pitcher this season.
"He's our horse," said Franceschelli. "He was getting his curveball over and getting ahead of the hitters and was able to keep them off balance.
"He had a good night tonight."
Boardman (3-5) couldn't overcome that third inning despite getting two hits apiece from Sam Porter, Dan Popio and Rob Boyd.
"It's tough to overcome an inning like that," said Boardman coach Jack Hay. "Things kind of snowballed there and our starter made a couple of mistakes."
After Mooney (7-2) scored eight runs in the third, the Cardinals tacked on three more runs in the fourth inning before Boardman's Dave DiBernardi came in to squelch the rally and finish out the game.
"Our pitchers did a nice job but their lineup is capable of hitting the ball," said Hay. "DiBernardi was able to come in and get out of trouble and finish the game."