Mother and daughter take center stage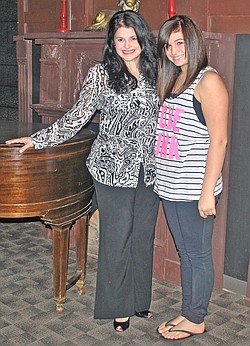 Photo
Neighbors | Shaiyla Hakeem .Boardman mother and daughter Carla Napoli (left) and Gabby Napoli have both been cast in the upcoming Youngstown Playhouse production "Cinderella." The play is slated to open its doors to the public April 30.
By SHAIYLA HAKEEM
What better way to strengthen the bond between a mother and her child than to cast them as mother and daughter in a play?
Carla Napoli and Gabby Napoli have both been cast in the Youngstown Playhouse's upcoming play "Cinderella." Carla will be playing the wicked stepmother and Gabby will be portraying the wicked stepsister, Thelma.
Carla, graduating from Boardman High School in 1991, has always been involved with the performing arts. She has participated in plays at YSU, the Ford Theatre and the Actor's Project of Youngstown. Her daughter, Gabby, seems to be following in her footsteps.
Gabby is a seventh-grader at Boardman Center Middle School where she is involved in an array of extracurricular activities. She enjoys being a part of different groups and organizations, but her involvement enables her fully devote herself to acting.
Center Middle School has a drama club that Gabby says she would love to be a part of. The only problem is fitting it into her busy schedule.
"I was going to try out for the drama club, but since I'm a cheerleader, everything conflicts," Gabby said.
According to her, she was initially nervous about auditioning for "Cinderella." Her mother agreed to audition with her to help feel more at ease about the auditioning process.
"She was apprehensive about auditioning for the show so I asked her, 'If I read, will you be more comfortable?'" Carla said, "I wasn't expecting to be cast in the show."
After Gabby auditioned, she told her mother that she thought the audition went well and that she would be fine without her. Upon leaving the theatre, Carla was stopped and questioned about still auditioning and decided to give it shot. Being cast along with her daughter, she says, is a great feeling.
"It was a surprise and very unplanned," Carla said.
Both were cast leading roles in the Playhouse production. This is Gabby's first speaking role, but she has been a part of play productions in the past. She plans to continue acting and auditioning for plays in the future, despite her busy schedule.
Carla would like to continue auditioning with her daughter, but for the moment is just grateful for the time spent on stage with her in "Cinderella."
"I was really excited to be able to have this experience with my daughter," Carla said. "I thought that it would be something great and fun and something that you don't come upon often."
Cinderella will be performed for in the afternoons for local schools April 28 through 30. Its public debut will be April 30 at 7 p.m. Following its final performance May 1, cast will be available to for autographs and refreshments will be served.
The production is directed by Patricia M. Fagan and James Lybarger. John Pecano is set designer. Rob Joki is costume designer and Matt Stevens serves as stage manager, assisted by Nicholas Berent.
The cast includes Lindsay Stevens; Cristoffer Carter; Carla Napoli; Gabriella Napoli; Claire Killian; Barbara Knight Berent and Nick Narkum.
Ticket prices are $7 for adults, and $5 for children. Reservations are recommended and may be made by calling the box office at 330-788-8739.