Liberty speciality store nurtures a child, community
By CHRISTINE KEELING
and DOUG LIVINGSTON
TheNewsOutlet.org
LIBERTY
Twenty-six years ago, a 3-year-old boy who spoke scattered English and fluent Italian led a tour of elderly women through his parents' store.
He paraded them up and down the aisles telling them about the pizzelles, cappicola, and his favorite, mortadella — an Italian bologna.

Photo
The new location, which moved from a site across the street three years ago, features a more elaborate bakery, deli, pizza shop and grocery store.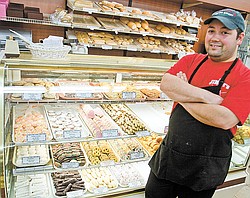 Photo
Frank Occhibove literally grew up in the aisles of Jimmy's Italian Specialties, which his parents started in his grandfather's garage on West Federal Street in Youngstown in 1974. Here Occhibove, manager of the store on Belmont Avenue in Liberty, stands in front of its bakery.
Frank Occhibove's childhood was surrounded by pasta, pastries, cash registers and customers.
"I grew up in the store," said Occhibove, now 28 and manager of his family's store, Jimmy's Italian Specialties of Liberty.
"I remember when I was like 3 or 4 … I would be in the office in the back on the floor on this little cot sleeping, taking my nap times in the middle of the day because my parents brought me to this store."
He said his parents, Jim and Irene, opened the business in a fairly unorthodox way.
"They opened up in my grandparents' garage. And that was on West Federal Street in Brier Hill, back in '74."
Six years later, Frank Occhibove was born, and the store was starting to grow. He played in the aisles of the store. He mingled with the customers and made himself useful.
Sometimes he would slip past his parents, who were busy working.
"My parents would say, 'Where's Frank?'… They didn't know where I was. I'd be up front in the middle of the store talking to customers and showing them how to use this certain machine and how to do this and that."
He tries to hold back a chuckle that turns into a body-shaking laugh.

"But it was a lot of fun. I remember loving when people would come in."
Occhibove attended Youngstown State University but never graduated.
"I never really even had a major," he said. "I was there for three and a half years … I wanted to be a school teacher or, I don't even know."
There isn't an ounce of regret in his decision to work at the family business.
"I'm doing this now," he said. "This is what I always wanted to do. It's in [my] blood."
Frank recalls the dedication that his family poured into creation of the business.
"It was a family thing. If someone needed help with this or that, everyone just pitched in. My grandfather and my dad worked at Valley Molding in Cleveland. They would drive to Cleveland every day."
After the family business was started, Occhibove said they still worked in the mill until things picked up.
He knows that his place is here in Liberty at this store.
"When we decided to make the big move to this store, we could have really went anywhere," he states. "But we decided to move a half a block away [from Colonial Plaza] because this is where our lifeblood is, right here in Liberty."
The new store on Belmont opened in 2007 and offers more exposure to the customers.
"We have a lot of good friendships made through the store," he says.
He said he tries to participate in the community as much as he can.
"I always ask them what we are able to do to help," said Frank of the township officials who visit there. He is happy to give back to a community that has given his family so much. "The township has really been here to support us even through tough times," he says.
Lt. Cathy Macchione of the Liberty Fire Department said, "We all go there."

She said that between Monday and Friday, members of the department order lunch from Jimmy's two or three of those days.
Occhibove admits business was not thriving before the holidays and that the close-knit clientele was there for support, but since the beginning of the year it has been pretty steady.
"Without a doubt, we are doing better here than at the old location," Occhibove said.
With the option of eating anything he wishes from the store, Frank admits that, "usually I just have an old fashioned sandwich with some cappicola, salami and cheese and nice hot peppers, or pasta."
Glancing downward at his round stomach, he confessed: "I'll eat pasta every day."
He said that Jimmy's Italian Specialties is many things — a bakery, a deli, a pizza shop and a grocery store.
He hopes to use the experience he has gained working at his parents' store and open a store of his own one day.
"In the future, I do see myself doing something on a smaller scale, maybe a bakery."
For now, though, he said he is content with his place in the family and the business. He smiles and says: "This is my life."
The NewsOutlet is a joint media venture by student and professional journalists and is a collaboration of Youngstown State University, WYSU radio and The Vindicator.