Incubator impresses GOP Senate hopeful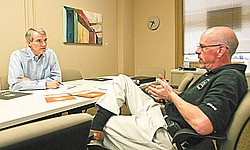 Photo
Rob Portman, left, an Ohio Republican candidate for a seat in the U.S. Senate, gets a briefing from Jim Cossler, director of the Youngstown Business Incubator, during a tour of the facility. Portman said Thursday he was impressed by what he saw and suggested the incubator should be held up as a model for other incubators across the state.
By HAROLD GWIN
YOUNGSTOWN
Republican senatorial candidate Rob Portman spent nearly two hours at the Youngstown Business Incubator on Thursday and came away clearly impressed with what he saw.
"It's truly exciting what is going on here," he said, suggesting that it is a model that should be replicated across Ohio.
There are some really exciting young companies here in Youngstown, Portman said, after a briefing by incubator director Jim Cossler and a tour that took him to two companies in the building — BizVeo and Revere Data LLC.
Companies in the incubator are exporting, bringing money into our state, and that's an important distinction, he said.
Ohio had experienced 10 years of growth in its exports, but exports dropped 25 percent last year, resulting in the loss of thousands of jobs, he said. It's a loss Portman attributed to a lack of focus by a state administration that includes Lt. Gov. Lee Fisher, one of his Democratic opponents for a seat in the U.S. Senate.
Portman said he's been hearing about the Youngstown Business Incubator for years and was recently advised by some local economic- development people that he should visit.
"I was not disappointed," he said.
They are really focused on one thing here — business- to-business software — as a key to Youngstown's economic future, he said.
They look at the incubator as a network to help develop companies, and they encourage interaction between companies as a way to grow ideas, he said.
"This is a really good model," he said.
Portman lives in Cincinnati and is a former congressman from Ohio's 2nd District. He also has served as a White House associate counsel and in two federal Cabinet-level posts — U.S. trade representative and director of the Office of Management and Budget.
On other issues, Portman said the country did need a federal-stimulus program, but the one it got had the wrong focus.
It grew government, but it hasn't helped the economy or created jobs, other than some public-sector jobs related to that government growth, he said.
The remaining stimulus money needs to be redirected to more infrastructure improvements to help business and industry and focus more on "shovel-ready" projects to create jobs, he said.
Some stimulus money also should be used to provide tax relief for small business and workers, he said. The health-care reform recently passed by Congress and signed by the president is flawed, Portman said, claiming that it is bad for jobs and will result in higher health-care costs for Ohioans.
Parts of it need to be repealed, and other parts need to be fixed, he said.