Semi driver not talking about accident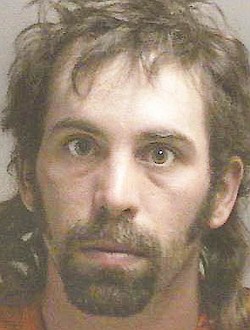 Photo
Marines Laid To Rest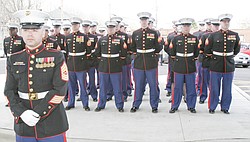 Gallery
By ED RUNYAN
LEAVITTSBURG
The Austintown man authorities say drove a semi truck into the back of a Marine Corps recruiter's car March 31, killing three recruits, is out of the hospital — but not talking about the accident.
"I'm advised by my attorney not to say [anything]," Donald P. Williams, 44, of Bainbridge Avenue said by telephone Wednesday.
"I know a lot that nobody else knows. There's other stuff involved, and I can't go into it any further," he said.
Joseph Dragovich, former Ohio State Highway Patrol Southington post commander, said Williams told investigators he doesn't remember the moments just before the accident.
The semi Williams was driving hit the back of a Pontiac G6 that was stopped at the Burnett Road traffic light on state Route 5, Warren Township.
Three recruits on their way to Cleveland to complete their enlistment were killed: Zachary Nolen, 19, of Mineral Ridge and Newton Falls; Michael Theodore Jr., 19, of Howland; and Joshua Sherbourne, 21, of Southington.
Ohio Bureau of Motor Vehicle records show Williams was convicted of drunken driving three times — in 2000, 1992 and 1987 — and was also convicted in 2000 of allowing his daughter and other juveniles to use drugs or alcohol in an Austintown motel room.
He was also convicted of the following traffic violations since 2000: stop sign, speeding, seat belt (twice), no driver's license and a traffic-light violation.
A drunken-driving conviction occurred in August 2000 in Mahoning County Area Court in Austintown, after Williams was picked up by the highway patrol on Meridian Road near Burkey Road. His blood-alcohol level was 0.125. The legal limit is 0.08.
Two months before that, he was convicted of misdemeanor selling alcohol to an underage person and contributing to the delinquency of a minor for allowing five juveniles at an Austintown motel to possess or consume alcohol.
Williams has had a valid commercial driver's license since last July, which allows him to drive a commercial tractor-trailer rig. A person does not lose his commercial or regular driving privileges in Ohio unless he has accumulated at least 12 points on his license in a two-year period, said Lindsey Wayt Bohrer, BMV public information officer.
Williams has had no moving violations since a stop-sign violation in October 2006, the BMV said.
Sgt. Randy Skaggs of the highway patrol said blood tests were done on individuals involved in the fatal crash, including Williams, but the highway patrol doesn't have results.
Nothing was found in Williams' truck to suggest that alcohol or drugs were involved in the accident, Skaggs said.
Skaggs said the initial report on the accident is likely to be finished and made public sometime next week.
Troopers have answered some questions regarding the accident but had refused to identify Williams by birthdate or address until Wednesday.
Troopers say they don't know how fast Williams was driving, but it appears Williams didn't apply his brakes before the crash, Dragovich said.
On Wednesday, Sgt. Jeff Klem clarified a comment from the Trumbull County coroner's office that indicated one of the three dead recruits was ejected during the accident.
Nolen was found on the ground by emergency workers, but a passer-by pulled him from the wreckage and performed CPR on him, Klem said.