Plane-nose art honors good deeds
910th Airlift Wing

Video
New nose art on a C-130 aircraft was displayed at the Youngstown Air Reserve Station April 7, 2010.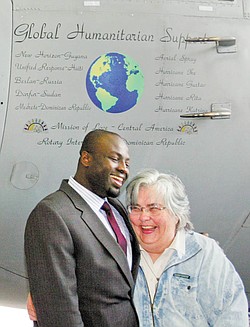 Photo
Dr. Michael K. Obeng, chief of plastic surgery at St. Elizabeth Boardman Health Center, and Kathleen M. Price, founder and director of Mission of Love, stand beneath the nose art on a C-130 Hercules cargo plane unveiled Wednesday . The 910th has transported 380,000 pounds of humanitarian aid for the Mission of Love over the last 11 years. R.E.S.T.O.R.E. Worldwide Inc., founded by Dr. Obeng, is planning a humanitarian mission to Ghana in the near future.
The phrase "Global Humanitarian Support" and a color graphic of a world globe are featured on the new "nose art" unveiled Wednesday on one of the 910th Airlift Wing unit's C-130 Hercules cargo planes. Here are missions flown over the past few years.
New Horizons, Guyana: June-August 2009.
Unified Response, Haiti: January-February 2010.
Beslan, Russia: September 2004.
Darfur, Sudan: Fall 2005.
Dominican Republic Medical Training Exercise (MEDRETE): April 2009.
Aerial spraying: Hurricanes Ike and Gustav, September 2008; and Hurricanes Rita and Katrina, September-October 2005.
Mission of Love: Several missions since 1999.
Rotary International: Dominican Republic, December 2008.
Source: 910th Airlift Wing
By WILLIAM K. ALCORN
VIENNA
One of the missions of the 910th Airlift Wing here is to help bring much-needed supplies to those impacted by disasters.
"No one can deliver school books and pencils to children who don't have them and not be touched," said Col. Karl McGregor, commander of the 910th.
He spoke Wednesday at the unveiling of plane-nose art titled "Global Humanitarian Support" on one of the unit's C-130 Hercules cargo planes.
The unveiling ceremony at Youngstown Air Reserve Station was attended by numerous Air Force personnel and civilians from the Mission of Love and others who have collaborated with the 910th to send donated aid to people in need around the world.
The nose art, a long-standing tradition in the Air Force, was designed by Staff Sgt. Michele Kennedy and created by Tech. Sgt. Scott Obermiyer.
The decal reads "Global Humanitarian Support," which is placed above a full-color graphic of a globe surrounded by locations of many of the humanitarian missions flown by the 910th over the past few years.
Kennedy, an aerospace maintenance specialist, and Obermiyer, a fabrications specialist, are assigned to the 910th Maintenance Squadron.
"The humanitarian program is one of the most important things we do. We're able to move things to people in need. It's our tight connection to the community," McGregor said.
And members of the community say they appreciate the connection.
"It's a great partnership," said Kathleen M. Price, founder and director of Mission of Love, a nonprofit organization that collects and sends supplies to all kinds to places around the world via the U.S. government's Denton Program.
The Denton Program permits the Department of Defense to transport privately donated humanitarian cargo to foreign countries using military transportation on a space-available basis.
Mission of Love has used the Denton Program more than any other nongovernmental organization in the country, according to a 910th spokesman.
During the last 11 years, it has donated and transported 380,000 pounds of humanitarian aid from the air base aboard Air Force planes to Honduras, Belize, Guatemala, Peru and Afghanistan. The aid has included medical supplies and equipment, school supplies, food, clothing, educational materials, firetrucks and two ambulances.
"In the early years, I used to show up at a commercial airport and hope someone would transport what I had collected," Price said.
Then, through the Rev. Richard Madden, former chaplain at the 910th, she learned of the Denton Program.
"I was sitting in a C-130 drooling" at the thought of how much could be sent, she added.
Also attending the nose-art ceremony were S.P. Wright and his son, Dr. Paul Wright, who, working through Rotary International, used the Denton Program in 2008 to send aid to the Dominican Republic.
"We truly are leading by example of what can be done when one wants to be of service and work together for the same common cause — humanity," Price said.
More like this from vindy.com