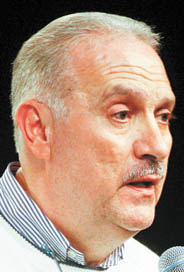 Photo
By GRACE WYLER
LORDSTOWN
General Motors posted a $4.3 billion loss Wednesday for the six months since the company emerged from bankruptcy.
But the loss will not affect GM's plans for the Lordstown plant and the production of the Chevrolet Cruze, said Jim Graham, president of United Auto Workers Local 1112.
In the earnings report, the company's first since the bankruptcy, GM reported $57.5 billion in revenue and $1 billion positive cash flow between July 10 and Dec. 31, 2009.
The $4.3 billion loss includes a $2.6 settlement with the UAW over retiree health care. An additional $1.3 billion can be attributed to foreign currency re-measurement losses.
Excluding these one-time costs, the company lost around $600 million in the fourth quarter, GM's chief financial officer Chris Liddell said in a conference call with reporters and industry analysts.
Despite losses, the company has a chance of achieving profitability this year. "As the results for 2009 show, there is significant work to be done," Liddell said. "However, I continue to believe we have a chance of achieving profitability in 2010."
Graham said the earnings report was better than many had expected.
"GM is actually doing better than a lot of people thought it would," Graham said. "GM's car sales went up last month, and they are going to keep increasing because the economy is going to keep getting better."
GM has invested $350 million into its Lordstown plant to prepare for production of the Chevrolet Cruze. The company recently announced it will add a third shift of 1,200 workers at the Lordstown complex.
The $4.3 billion loss will not affect GM's plans for Lordstown, Graham said.
"It will not have any effect on Lordstown at all," Graham said. "The Cruze is right on line. We are going to start production in July and be at full production by September."
Wednesday's earnings report is the first step toward achieving profitability, said Noreen Pratscher, a GM spokeswoman.
The report used "fresh-start" accounting, which allows the new company to reset the value of liabilities and assets. Fresh-start accounting is a necessary step before the company can go public.
"The filings close the chapter on old GM and move us toward achieving profitability and ultimately becoming a publicly traded company," Pratscher said. "Fresh start was a first step towards that goal and a significant milestone."
According to the report, the company had $36.2 billion in cash reserves and marketable securities at the end of 2009, more than double that on hand the year before.
GM executives and workers alike seem to have faith that the company's fortunes will soon change.
Dave Green, president of UAW Local 1714 in Lordstown, said he believes GM will start to see profits as it moves forward with its new models.
"I really believe GM is going to turn a profit, based not only on their products but on the economy," Green said. "I believe that GM is going to be one of the most profitable automakers in the world. They have a lot of the best products out there, and people are starting to see that."
---
SEE ALSO: UAW sues General Motors.