Clarett's move OK'd by judge
Associated Press
COLUMBUS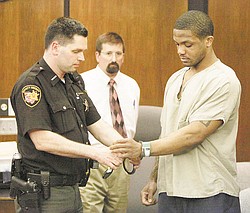 Photo
A deputy sheriff removes Maurice Clarett's handcuff s during a courtroom hearing Wednesday in Columbus. The judge cleared the way for the former Ohio State football star to be transferred to a smaller detention facility in the city.
A judge on Wednesday cleared the way for Maurice Clarett to move to a smaller detention facility in Columbus, which could lead to his release within a few months.
Asked by Franklin County Common Pleas Judge David Fais if he had anything to say, Clarett cleared his throat and said, "I'd like to say I'm humbled."
Clarett, the Youngstown native who led Ohio State to the 2002 national championship in his only college season, served 31'Ñ2 years in prison for aggravated robbery and carrying a concealed weapon.
Fais said Clarett, 26, had met terms of his original sentencing when he pleaded guilty in September 2006 and permitted the move to Maryhaven, a community-based correction facility.
"He's very grateful he's been released," said his attorney, Michael Hoague. "Still, he's incarcerated, so it's a blend of emotions."
Officials at the facility will evaluate Clarett's employment, education and family considerations. He will be there at least 4 months but no more than 6 months before being released, pending good behavior, Fais said.
Clarett said he also had realized that he wants to become a good father to his daughter, who lives in Youngstown with her mother.
His mother, Michelle Clarett, sat a few feet away from her son during the hearing, along with other family members and friends.
Prosecutors did not argue against Clarett's move to the facility.
"He did have a good prison record," Franklin County Prosecutor Ron O'Brien said Tuesday night.
Hoague said Maryhaven was a step between a county jail and a prison, with dormitory-style living and numerous programs to prepare inmates for the outside world. He said during the latter stages of a person's confinement, they can be released to go to work each day.
Hoague said Clarett had taken classes on geriatrics and gerontology while in prison and hoped to work with older adults.
Clarett pleaded guilty in September 2006 to having a gun hidden in his SUV and holding up two people outside a Columbus bar in a separate case. He was sentenced to 71'Ñ2 years in prison with possible release in 31'Ñ2 years.
Clarett was charged with aggravated robbery on Jan. 1, 2006, after police said he flashed a gun at people outside a bar and robbed them of a cell phone. Before his trial on those charges, Clarett was arrested on Aug. 9, 2006, after police chased him when they said he failed to stop him for a traffic violation.
Clarett has been taking college-credit courses in the Toledo prison.