Marines Laid To Rest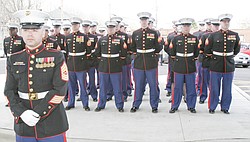 Gallery
FUNERALS
TODAY
Times and Places
Michael T. Theodore Jr.: 11 a.m. at the Peter Rossi & Son Memorial Chapel, 1884 North Road, N.E., in Warren.
Zachary A. Nolen: 10 a.m. today at James Funeral Home, 8 E. Broad St., Newton Falls.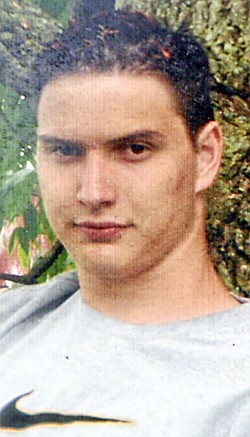 Photo
Joshua A. Sherbourne of Southington, 21; killed in 7-vehicle crash on SR 5 outside Warren as he and 3 other recruits were being driven to Cleveland to complete their enlistment in the Marines March 31, 2010.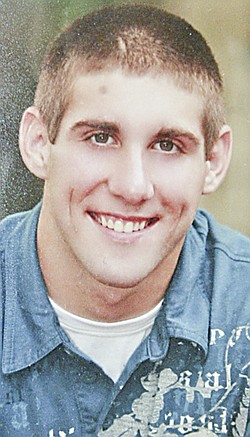 Photo

Photo
ROBERT K. YOSAY | THE VINDICATOR..Zachary Nolan one Three Trumbull County Marine Corps recruits on their way to Cleveland to take a military entrance exam were killed in a seven-car pileup Wednesday afternoon on state Routes 5 and 82 at Burnett Road in Warren Township...-30
Fatal Wreck Kills Three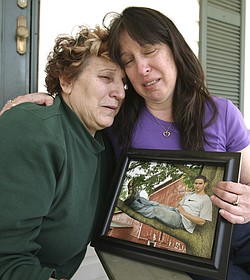 Video
Three Trumbull County Marine Corps recruits on their way to Cleveland to take a military entrance exam were killed in a seven-car pileup Wednesday afternoon on state Routes 5 and 82 at Burnett Road in Warren Township. Killed were Zachery A. Nolen of Newton Falls, 19; Joshua A. Sherbourne of Southington, 21, and Michael T. Theodore Jr. of Warren, 19.
By ED RUNYAN and DENISE DICK
news@vindy.com
WARREN
It's human nature to experience frustration, confusion and anger when someone dies, the Rev. Randall Riley, pastor at Southington Christian Church, said at the funeral for Joshua A. Sherbourne, 21, of Southington.
"We want to have the answer, so we can make sense of something senseless," he said Monday afternoon at Carl W. Hall Funeral Home.
"If you really want to know the answers, if you really want God to speak to you ... remember the way he spoke to us is through the Bible," Pastor Riley said. "So when you have those questions, pick up your Bible, because God chose that method for speaking to us."
Sherbourne was one of the three Marine Corps recruits killed Wednesday afternoon when the recruiter's car was rear-ended by a semi-tractor truck on state Route 5 at Burnett Road. The car was stopped at the traffic light.
The recruits – Sherbourne, Michael T. Theodore Jr. and Zachary A. Nolen – were traveling to Cleveland to complete their enlistments.
The trio was remembered simultaneously Monday in funeral homes in Trumbull County. At the Peter Rossi & Son Funeral Memorial Chapel in Howland, posters with photos of Theodore, 19, were displayed on easels as members of the community attended calling hours.
Theodore was shown holding his nieces Sophia 2, and Eleni, 1, posing with his fiancée, mugging for the camera, frolicking with friends on a beach.
"He was just always smiling," said Alyson Freeman of Howland, who is best friends with Theodore's sister, Nicole.
Theodore and Angel Willis were to wed June 26. They met at Pentecostal Community Church, Jefferson.
"He used to sit in the front pews and look back and smile," Angel said.
When they met, he was 14 and she was 16. After a while, he asked her out and they went to a movie. They got engaged about a year ago.
She attends Kent State University, and the two had a trailer they were fixing up for when Theodore finished boot camp.
"He lived his life for God," Willis said of the reason she wanted to spend the rest of her life with Theodore. "That's the most important thing."
Theodore's brother-in-law, Mike McFarland, plans a benefit bike run in Theodore's honor. The date hasn't been set, but it will likely be early next month. Proceeds will be used to build a youth center at Pentecostal Community Church. Theodore liked to cycle with his father, McFarland said.
"He always wanted to ride in a big group," he said.
McFarland said his brother-in-law was a patriot who for the last couple of years talked about being in the military.
"He wanted to be part of something bigger," McFarland said. "You don't see that anymore. He was a good kid."
Recalling Zachary Nolen
A steady stream of friends and family also filed into the James Funeral Home Monday for calling hours for Zachary A. Nolen, 19, of Newton Falls.
Some clutched tissues and dabbed tears from their eyes.
Mike Caparanis, a 2007 Newton Falls High School graduate, stood outside of the funeral home and recalled his friend.
"When he was a sophomore and I was a senior, we were in drama together," said Caparanis, a Kent student.
That's how the two met and became friends.
"We played Ultimate Frisbee together," he said. "I taught him how to play. We played a couple of times a week."
Nolen was well liked, Caparanis said.
"I don't think I ever met anyone who had anything bad to say about him," he said. "I don't think I ever heard the words come out of anyone's mouth that they didn't like Zach."
At services for Sherbourne, Pastor Riley quoted the Gospel of John, saying, "He who believes in me will live, even though they may die."
He added, "Joshua has taken the trip, and we're here to see him off and to say ... see you later."
Pastor Riley also read the funeral poem "If Tomorrow Starts Without Me."
"But when tomorrow starts without me,
"Please try to understand,
"That an angel came and called my name,
"And took me by the hand,
"And said my place was ready,
"In heaven far above,
"And that I'd have to leave behind
"All those I dearly love."
Sherbourne's casket was draped with an American flag during the funeral, and active-duty Marines from the Cleveland recruiting station conducted a flag-folding ceremony at its conclusion and gave the flag to Sherbourne's family.
Members of the Newton Falls Veterans Honor Guard provided a 21-gun salute outside the funeral home, and one of its members played "Taps."
The only thing that would have been different at a Marine funeral is that the Marines would have conducted the 21-gun salute, U.S. Marine Sgt. Martin Harris said.
"He was making a commitment to our family, and we wanted to ensure that we were represented for his family," Harris said.
INVESTIGATION UPDATE
Meanwhile, Lt. Joseph Dragovich, commander of the Southington post of the Ohio State Highway Patrol, which investigated the accident, said investigators have ruled out mechanical failure as the reason for the accident.
It also doesn't look as if Donald Williams, 44, of Youngstown, the driver of the semi, applied his brakes, Dragovich said.
Williams told investigators he doesn't remember what led up to the collision, the lieutenant said.
Sgt. Charles Keene, who was driving the car with the Marine recruits, and front-seat passenger, Karl McDermott III, of Masury, suffered injuries but survived the crash. Both have been released from area hospitals.