Redshirt freshman Pace has heat to be a bruiser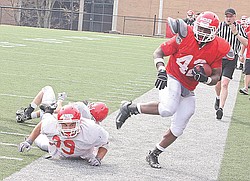 Photo
Penguins tailback Torrian Pace, a redshirt freshman from Chantilly, Va., is knocked out of bounds by Dom Rich during Saturday's scrimmage.
By Joe Scalzo
YOUNGSTOWN
After Torrian Pace's dominant performance in Saturday's scrimmage, YSU football coach Eric Wolford pulled him aside and told him he was still tip-toeing through the hole too much.
"Trust me, I'm not happy with him, but he knows I'll never be happy," Wolford said. "He's got a lot of potential, but there's a lot of guys who have a lot of potential and never reach it.
"I'm not gonna settle. I'm going to stay on him about it."
Pace, a redshirt freshman from Chantilly, Va., is soft spoken off the field — and a bruiser on it. The 5-foot-10, 230-pound tailback carried 27 times for 168 yards and two TDs in Saturday's scrimmage.
"Working with the [first team] and getting a lot more reps, it's helping me," Pace said. "And going against a great defense is preparing me more and maturing me to be a better back."
After a strong year on the scout team, Pace spent the offseason trying to get slimmer and faster without sacrificing strength. He believes he needs to get tougher, both mentally and physically.
"Running all these plays in two, three hours, the mental aspect factors in over the physical aspect of practice," he said.
The YSU coaches have been working with him on getting a lower center of gravity when he runs. He also needs to get more of a forward lean, allowing him to deliver blows with more force.
As the old football adage goes: The low man wins.
"I feel like I'm low; I've just got to get a little bit lower," he said. "I'll work on it and it'll get there."
When asked if it's a big adjustment, Wolford drew laughter when he said, "No, you just have to get a bat out.
"He's coming along. If he ever learns to run with his pads down, people are going to have some problems."
Starting tailback Jamaine Cook absorbed some big hits in Saturday's scrimmage, which gave Pace more opportunities.
"I want to be the one to be relied on," he said. "If Jamaine goes down like he did today, I have to be ready to step up."
And while Wolford has emphasized enthusiasm all spring, Pace hasn't shown much of a vocal side — even after his two touchdowns Saturday.
"That's just the way I've been all life, humble and low key," he said. "I've never been a rah-rah type.
"I do it more with my actions. I get excited, just on the inside."