IN FOCUS: Daffodils in bloom at Lake Newport
Daffodil Meadow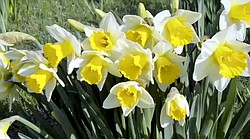 Video
Every Spring since 1932 daffodils have been blooming at the Mill Creek Metro Park Daffodil Meadow in Youngstown, OH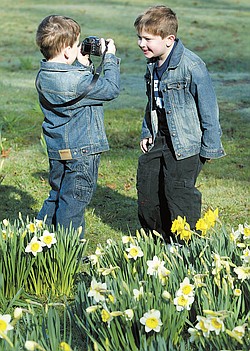 Photo
Brian left, takes a photo of his brother Jack, 5, in the Daffodil Meadow. They and their dad took photos to remember the field of blooms and so that their dad could use them when he's painting.
By WILLIAM D. LEWIS
YOUNGSTOWN
Chris Leeper, a Canfield artist and frequent visitor to Mill Creek Park, woke his sons Brian, 4, and Jack, 5, early on an April morning and said, "We're going to the park to see the daffodils."
After a bit of yawning and a quick breakfast, the boys were making their way through a meadow of golden flowers on the eastern shore of Lake Newport.
Early-morning sun and the honks of Canada geese formed a background as they and their dad were busy taking in the sights of Daffodil Meadow, one of the park's most-popular spring attractions.
Each spring since 1932, when the Garden Club of Youngstown planted 8,000 daffodil bulbs on Newport's shore, park visitors have flocked to the meadow.
Generations of Mahoning Valley residents have photographed the flowers and used the golden blooms as a backdrop for photos of their families.
"Its such a [spring] tradition to go visit Daffodil Meadow where you see thousands of them blooming at one time," said Ellen Speicher, the park system's assistant horticulture director.
Keith Kaiser, horticulture director, says the park often gets out-of-town phone calls inquiring when the meadow will be in bloom.
He said Mill Creek MetroParks was named in a 2009 USA Today article as a top place to see daffodils. The meadow should be around for future generations to enjoy because park workers plant new bulbs there almost every fall, Kaiser added.
Leeper, who photographs the daffodils to help with his paintings, said this is a special time in the park that lasts only for a few weeks each spring, and he wants to share it with his sons.
"I want them to appreciate what we have here," he said. "This is a treasure. I want them to grow up loving this park."