Marine recruits from Valley remembered
Marine Recruits Tragedy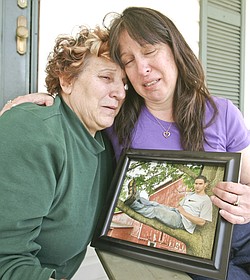 Gallery
Fatal Wreck Kills Three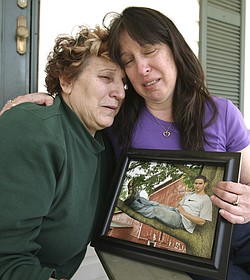 Video
Three Trumbull County Marine Corps recruits on their way to Cleveland to take a military entrance exam were killed in a seven-car pileup Wednesday afternoon on state Routes 5 and 82 at Burnett Road in Warren Township. Killed were Zachery A. Nolen of Newton Falls, 19; Joshua A. Sherbourne of Southington, 21, and Michael T. Theodore Jr. of Warren, 19.
By ED RUNYAN
and WILLIAM K. ALCORN
news@vindy.com
LEAVITTSBURG
Three young Trumbull County men who accepted the risks that go with military service had their lives cut short instead by a traffic accident not far from their hometowns.
Zachary A. Nolen, 19, of Newton Falls; Joshua A. Sherbourne, 21, of Southington; and Michael T. Theodore Jr. , 19, of Howland died Wednesday afternoon after an accident on state Route 5 when a tractor-trailer hit the back of the car taking them to Cleveland to complete their enlistment in the Marines. They would have taken their oath today and begun boot camp in the fall.
All three men were in the back seat.
Rose Sherbourne, Joshua's grandmother, said the family had met with a recruiter in its farm house on Phalanx Mills Herner Road to talk about enlisting, and there was a discussion about the dangers. The recruiter advised that the percentage of soldiers who are injured is actually very low.
"I said he could die in a car crash at home as easily as that," Rose said Thursday morning in her living room, surrounded by Joshua's three younger siblings and other family members, considering the irony of the statement.
"He was a wonderful farm boy," she said of the 2007 graduate of Southington High School and the Trumbull Career and Technical Center, who lived with her.
The Ohio State Highway Patrol says it hasn't yet determined why the truck driver, Donald Williams of Youngstown, hit the back of the recruiter's car, which was stopped at the Burnett Street traffic light.
Sgt. Larry Firmi of the Warren patrol post, said troopers interviewed Williams but would not discuss what information they obtained.
Joshua
"He loved going out in the woods and cutting down trees. He loved the outdoors, riding four-wheelers. He loved landscaping and flowers," Rose Sherbourne said of her grandson. Out in the front yard, Joshua had built a water fountain with a bench under a big tree where he and his girlfriend, Carly Holub, enjoyed spending time.
Joshua worked hard from his early teens, having jobs in restaurants such as Baconsburg and Golden Gate and industrial jobs at Glunt Industries and Ajax Magnethermic.
He helped out with the Sherbourne's well-known pumpkin-selling enterprise, worked on cars and tractors and put a roof on his aunt's house.
He was honored several years ago by the Ohio House of Representatives for giving CPR for 30 minutes to a heart-attack victim at the Golden Gate, keeping the man alive until paramedics arrived.
But he decided about three weeks ago on the Marines.
"He was really looking forward to it," Holub said. Joshua had been running and doing push-ups to get in shape for boot camp.
"He wanted to do something to help everybody out," Holub said of his reason for enlisting.
"If anybody needed help, he was right there," said his aunt, Sandy Winand of Southington.
Zachary
Several of Zachary A. Nolen's best friends say the 2009 Newton Falls High School graduate was one of the smartest, most determined and best liked people they had ever known, and he joined the Marines because he wanted to achieve at the highest level the military could offer.
"Anything he did, he was the best at, any sport, even pool and ping-pong," said David Pagano, Nolen's best friend since third grade.
Nolen was on spring break this week from Kent State University, where he was studying biology, and planned to complete the current semester, then become a Marine, Pagano said.
He had thought about becoming a Navy Seal but learned that Special Operations Reconnaissance in the Marines was tougher and involved higher levels of training, so he chose that, Pagano said.
"He just wanted the hardest thing to do. He saw it as a challenge," Pagano said from Nolen's mother's home in Mineral Ridge. "He always wanted to be the best at everything."
In high school, Nolen was a top golfer, and he acted in high school plays. Friends are planning memorial gatherings in Newton Falls in the next few days.
His girlfriend, Amber Beechy of Southington and Newton Falls, said Nolen would have stayed overnight in Cleveland on Wednesday, then gotten a physical today and taken the oath of enlistment at the Military Entrance Processing Station in Cleveland.
She said Nolen hadn't met any of the three other enlistees in the car with him before Wednesday.
Michael
Michael T. Theodore Jr., or Mikey as his mother, Laureen, called him, loved God and his family and wanted to be a Marine and serve his country.
"We knew that if he went into the military, he might go overseas and get hurt, but not on the way to Cleveland to be sworn in," said his father, Michael T. Theodore Sr.
"I just can't fathom that this happened," his father said.
Family and friends gathered Thursday at the Theodore home in Howland. Michael was to have married Angel Willis of Orwell on June 26.
He wanted to be a Marine to prove himself, to see if he could do it, said his father, who works at General Electric Lighting in Ravenna.
He wanted to serve his country. It was important to him. He was very excited, said his mother, employed at Farmers National Bank in Niles.
"It was all he talked about," his sister, Nicole, a junior at Howland High School, said.
His buddy, Dan Popadak of Warren, said Michael liked riding motorcycles, and that a motorcycle trip had been planned for this weekend through southern Ohio or western New York. He also loved Brazilian Jiu-Jitsu, Popadak said.
Michael was a 2009 graduate of Howland High School, where he played football and ran track and worked in the guidance office as a student aide.
He was "good natured and hard working. You never heard anyone say a bad word about him," said John Mosora, his freshman football coach and guidance counselor.
Michael was a worship leader and worked with youth at the family's church, Pentecostal Community Church in Jefferson.
He had an extremely positive outlook, said his pastor, the Rev. Scott Ardary.
In a statement, the Marines said the Corps will honor the memory of Nolen, Sherbourne and Theodore and "remember them for their courage in choosing to become a part of our Marine Corps family," adding that the three were "ready to commit themselves to a larger purpose."
The Marines also expressed concern for Carl McDermott III of Masury, a recruit in the front seat of the car, who was injured; and Sgt. Charles Keene, the recruiter driving the car. Keene was in stable condition Thursday.
"This unforeseeable accident is a heartbreaking reminder of the frailty in life, and the fragile existence we all share," the Marines' statement said.
The state patrol said there were five other people injured in the crash but none of their injuries appear to be serious. Seven vehicles were involved.