John F. Kennedy joins North Coast League
By ROB TODOR
WARREN
JFK vs Girard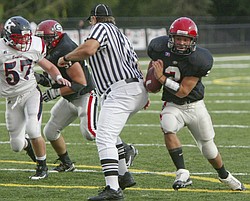 Gallery
JFK vs Girard - Sept. 11, 2009.
Warren JFK vs Hubbard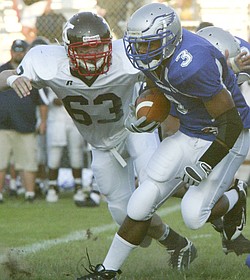 Gallery
JFK VS GIRARD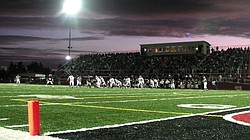 Video
John F. Kennedy administrators waited 15 years to get back in a league. Once they got the chance, they needed only three weeks to make it happen.
JFK will join the North Coast League, a coalition of 13 parochial and private schools scattered throughout Northeast Ohio. All but JFK are located in the Cleveland or Akron areas.
JFK athletic director John Gillen, who presided when five schools left the Mahoning Valley Conference in 1994 to form the Metro Athletic Conference.
"It's becoming more difficult [for JFK] to schedule, especially football," said Gillen. "We were [traveling] all over the state, to West Virginia and to Pennsylvania. One year we traveled all the way to Delphos St. John's for a game. That's very difficult."
And so while the travel in the NCL won't bother the Eagles, playing in a league gives the athletes and coaches an added benefit.
"This conference gives our athletes something to aim at," said Gillen. "It was discouraging reading about all the area kids who made all-league teams. Our kids were never involved in that."
The NCL will consist of two six-team divisions — Cleveland Benedictine is an all-boys school and Cleveland Heights Beaumont is an all-girls school — and the Eagles will be in the White Tier. JFK will be the smallest school, enrollment-wise, in the league.
JFK will play five league games in football — the Eagles can play teams in the other Tier but they won't count in the standings — and 10 in all other sports.
"There's been some area schools who were really nice to us and continued to schedule us [as an independent]," said Gillen. "We want to continue to play them in our non-league games."
Gillen said every coach at Kennedy is excited about the new affiliation.
"I'm sure it's going to work out well," he said. "It's really kind of exciting.
"In football, for example, if we didn't make the playoffs there was nothing to shoot for. Now we will also have a chance to win a league championship."
The league also announced on Thursday that Benedictine, Beaumont and Walsh Jesuit would join in 2011, and that Elyria Catholic is leaving for the West Shore Conference.
Other current schools in the NCL are Akron Hoban, Cleveland Central Catholic, Mentor Lake Catholic, Parma Heights Holy Name, Parma Padua, Bedford Chanel, Cleveland Villa Angela-St. Joseph, Garfield Heights Trinity and Chardon Notre Dame Cathedral-Latin.