Passion play draws thousands to Austintown
Passion Play at Highway Tabernacle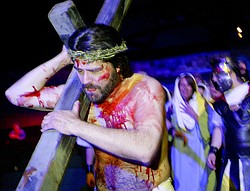 Gallery
By LINDA M. LINONIS
austintown
Filling 1,400 seats at five performances would probably challenge any amateur theater company.
But that's the norm for the Passion play presented every year by Highway Tabernacle. The same attendance is anticipated this year.
The drama, begun by The Rev. Gary Hallberg, who now pastors a church in Steubenville, is marking its 10th anniversary.
"He had a vision to do an Easter musical," said director Jason Fisher, worship and creative arts pastor. A graduate of Central Bible College with a degree in church music, he brings that expertise to the project.
"A lot I just picked up by doing this," he said during a recent interview.
The Rev. Rich Hamm "made a big change" in 2007 by adding a narrator, John the Revelator. He is the Apostle John who penned the book of Revelation. Flashbacks recount the biblical story of the life, death and resurrection of Jesus.
2008 was a transition for the play, which was supervised by a committee. The Rev. Jonathan Moore, senior pastor, who had directed, handed the duty to Pastor Fisher. The Passion play evolved from "The Promise" script. "It was done verbatim at first," Pastor Fisher said. "Then scenes were changed or added, and songs were changed."
"A lot of good ideas have been incorporated," Pastor Fisher said of the script that uses material from "The Promise," revisions by Pastor Hamm and current changes.
"We took out things that didn't work," said Nancy Wickham, production manager, who's been with the show since its start.
The 150-member cast and crew began rehearsing in February. Actors with and without lines rehearse at various intervals. Cast and crew follow this PLAYbook: P for passion, be expressive; L for listening to take direction; A for adjust, be aware and attitude; and Y for what you would have done as witness to the Passion.
"Teamwork brings it all together," said Pastor Fisher.
This play doesn't focus solely on the Passion of Christ; it starts at his birth.
Musical selections include "All Things New," "Glorious Impossible," "Prepare the Way," "Shalom," "Cross of Calvary." A vocal ensemble is showcased.
Play patrons are intrigued by scenes of Christ's birth when Herbie the camel strides down the center aisle as the Three Wise Men visit Jesus. "He [Herbie] is really tall," Pastor Fisher said. Herbie, along with Virgil, another camel, and other animals are provided by Dwane Felder.
"A toddler represents Jesus," Pastor Fisher said, noting a toddler is truer to the real age of Jesus when visited by the Magi.
The play fast forwards to John the Baptist, a forerunner of Jesus. The audience is introduced to the adult Jesus when he is baptized and his ministry gets under way.
The Passion takes up much of the two-hour presentation. Crosses where Christ and the thieves are crucified are a focal point on stage.
"The tomb scene is somber," Pastor Fisher said, and the finale takes place in heaven. The shows culminate with a message by Pastor Moore.
The show is a year in the making. "I live and breathe it," Wickham acknowledged.
"It's my passion ... I like everything about being involved with it."
IF YO GO
Highway Tabernacle, 3000 S. Raccoon Road, Austintown, is presenting its 10th annual Passion play this Easter season.
When: 3 and 7 p.m. today, Good Friday; 7 p.m. Saturday and 7 p.m. Easter. A show took place on Palm Sunday.
Admission: Free but a free-will offering will be taken. No reservations are accepted. Doors open 45 minutes before show time.
Details: Child care will be provided for infants to kindergarten age.
Information: Church office at (330) 792-3000.