Lots of Llamas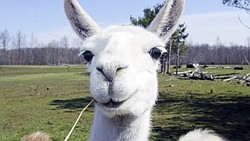 Video
Debbie Arendas has more than 50 llamas on her ranch in Lowellville, OH.
By jeanne starmack
starmack@vindy.com
LOWELLVILLE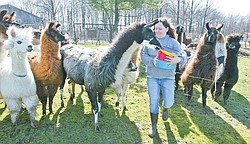 Photo
William D. Lewis|The Vindicator Spacey Llama Ranch in Lowelleville is home to more than 50 llamas Charlene Arendas gets up close wih some of the llamas.Her parents Debbie and Chuck Arendas own the ranch.
Somewhere in the world there might be a llama that prefers Coke to Pepsi, but that llama is certainly not DaVinci.
You can't fool him, either. His owners, Chuck and Debbie Arendas, have tried.
They put Coke in a Pepsi can once, just to see if it made a difference. It didn't. He spit it right out, they said.
Chuck recalled the day they discovered his preference.
Their daughter, Charlene, was a junior in high school. She and some classmates were at the Arendases' 6700 New Castle Road home, also known as the Spacey Acres Llama Ranch, to work on a Spanish assignment.
They were in the yard doing the Pepsi Challenge, in Spanish, when Chuck walked by with DaVinci. As a joke, they let him try the taste test. But the joke turned into serious brand loyalty for DaVinci, who continues to love his Pepsi no matter what language is spoken when it's served to him.
DaVinci, who was the Arendases' first llama, now shares Spacey Acres with 50 other llamas and alpacas, the llamas' shorter cousins.
They all have names, which the Arendases remember — "Every one," said Chuck.
Some are easy to tell apart. Captain Crunch sports an orange ring around his white neck. Vinny and his mother, Arabell, have white tuxedo stripes on their chests. Fireprincess is a show-stopping standout, with a Lifetime Excellence Award to prove it.
But even the ones that look alike are easy to distinguish through their personalities.
It's those personalities, Debbie said, that drew her to llamas after they got DaVinci for Charlene's 4H project when she was in sixth grade in 1995.
"I just love animals, and llamas are the way to go for me," Debbie said.

Charlene, now a veterinarian with Town and Country Veterinary Hospital in Howland, still helps at the farm.
On a chilly late March morning at the 38.5-acre ranch, the herd followed Charlene, Debbie and Chuck through the fields like woolly, long-legged dogs. Their personalities, said Charlene, are more like those of cats.
"It's on their terms if they want to come to you," she said, though the Spacey Acres bunch is not shy.
They are curious, and will initiate nose-to-nose contact with human visitors. But they are also gentle and well-mannered — no humans were knocked down or even jostled. They do shy away from face-petting, preferring instead some strokes on their necks and chests.
What's life like with 51 llamas and alpacas? You'd know when the Goodyear Blimp is overhead, because you'd look out your kitchen window and see every last neck craned skyward and every head thrown back in sheer amazement.
Early one morning you might hear frantic honking and go outside to find that 15 or 20 runaways from your herd have surrounded a busload of kindergartners.
But don't worry about coyotes lurking on your farm. Llamas are guard animals and can kill coyotes.
The Arendases' llamas go places, too. They go to shows, where they win points and awards; to the Canfield Fair, where the Llucky Llamas 4H Club shows them; on day hikes as pack animals for the 4H-ers; to the Boardman Kmart, where they raise money for Second Harvest Food Bank — $3,500 over the years, Chuck noted; and to the St. Patrick's Day Parade in Boardman.
Because the Arendases live in the country and trick-or-treaters don't come to them, they've gone to Lowellville to the trick-or-treaters — with llamas bearing packs of Halloween candy.
"You know what makes her happy?" said Chuck about his wife: "When she brings them to city kids and people who haven't been fortunate to see a llama up close. She sees it in their eyes — she brings joy to them."
---
Llama facts
Spacey Acres near Lowellville has 51 llamas and alpacas that make area appearances. Their next appearance will be at Salem Tractor Supply, 2366 E. State St., from 9 a.m. to
3 p.m. April 10. There, they'll raise money for the Relay for Life. The farm also welcomes visitors, but call in advance: (330) 536-8517. Some facts about llamas:
Where they're from: They were domesticated in the Andean highlands of Peru between 5,000 and 6,000 years ago.
Life span: 15 to 25 years.
Weight: 250 to 450 pounds. Their smaller cousins, the alpacas, weigh about 140 pounds.
How they're used: Wool production, cart pulling, as therapy animals, exhibition in shows, parades and fairs, guards for livestock, and as pack animals.
What they eat: Pasture grass, hay and food pellets that contain vitamins, minerals.
How they communicate: By humming and a series of ear, body and tail postures. Occasionally, they have a distinctive alarm call to alert their owners to an unfamiliar dog or other threat.
How much they cost: Prices vary in different regions of the country. Expect to pay as little as $400 for a pet male. Trained packers can range from $1,000 to $2,500.
Source: Spacey Acres Llama Ranch and Llucky Llamas 4H Club