Delphi Retirees Hear YSU Study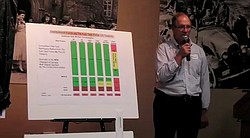 Video
Delphi salaries retirees hear a YSU study on Delphi pensions.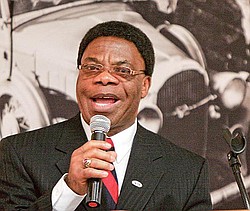 Photo
STUDY RESULTS: Frank Akpadock, senior research associate at Youngstown State University, predicts job losses will occur in the community because of lower wages and benefits for Delphi Corp. salaried retirees. He spoke Monday at YSU's Kilcawley Center.
Pension, health-care cuts to cost 4,830 jobs, $161M, retirees say
By DON SHILLING
VINDICATOR BUSINESS EDITOR
YOUNGSTOWN — Officials predict 4,830 jobs will be lost in the Mahoning Valley because of the pension and health-care cuts of Delphi Corp. retirees.
The retirees will have less money to spend at area stores and restaurants, so those businesses will cut back, said Frank Akpadock, senior research associate at the Center for Urban and Regional Studies at Youngstown State University.
Plus, cities will collect less in taxes, so they will not have as much to spend on local services, and social service agencies will receive less in donations, so the needy will receive less help, he said.
"The entire population will be affected," he said.
Akpadock released a study Monday of the economic impact of cuts in pension and health-care benefits for Delphi salaried workers in the area. The Delphi Salaried Retirees Association requested the study.
Akpadock used an economic model that estimated 30 jobs are lost for every $1 million in economic impact.
He estimated that nearly $58 million will be taken out of the local economy as retirees receive less in pensions and spend more on health care under a new health-care plan forced on them. That would lead to a reduction of about 1,740 jobs in the community, he said.
His study includes direct losses of $26.1 million a year by the retirees from reduced pensions and increased health-care expenses. It also includes $31.6 million in indirect losses, which are hits taken by local businesses as money from the retirees is not circulated in the community.
In addition, the salaried retirees applied Akpadock's model to estimate the effect of Delphi's hourly retirees having increased health-care expenses. Akpadock didn't include the hourly retirees in his study because their pensions are not being changed.
The retirees association estimated that the hourly retirees will spend $103 million a year more on health care. Taking that money away from other local businesses would lead to a reduction of 3,090 jobs in the community, they said.
If both estimates are put together, the economic loss to the community would be $161 million a year, with a job loss of 4,830.
"We are headed for a disaster. The train is coming down the track," said Bruce Gump, a member of the retirees association.
The retirees are publicizing the study because they want to put political pressure on President Barack Obama's administration to restore the salaried retirees' full pensions. GM, which is owned mostly by the federal government, has agreed to pay full pensions to union employees at GM and Delphi.
The Delphi salaried retirees said they have until January to convince federal officials of their case because that is when the Pension Benefit Guaranty Corp. will begin issuing reduced pensions. The retirees are expecting cuts of between 30 percent and 70 percent, in large part because the PBGC does not pay supplements that Delphi was paying to retirees who were under 62.
Mary Ann Hudzig, another member of the retirees association, said salaried retirees will be in for a shock come January. Not only will pensions be reduced, but retirees also will be asked to pay back overpayments made to them since the PBGC took over Delphi's pensions in August, she said.
She expects she will have to pay back between $7,500 and $10,000, which can be done in installments.
"I don't even have that money. It was given to health care," she said.
Hudzig, 56, of Warren, said she expects her pension to be reduced from $3,000 a month to between $1,000 and $1,500 a month.
The retirees association also is trying to stop the PBGC takeover through a federal lawsuit in Michigan. The suit says that the agency broke federal law by giving up liens against the company without receiving anything in return.
shilling@vindy.com