IN FOCUS: The Bridges of Millcreek Metro Parks
IN FOCUS: Mill Creek Park Bridges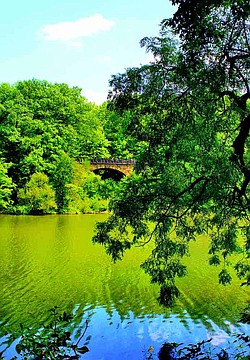 Gallery
PANORAMA: Suspension Bridge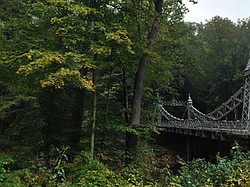 Video
A view of the Suspension Bridge in the Mill Creek MetroParks on Saturday, Sept. 26, 2009.
A bridge in Italy during the early 1900s inspired Bruce Rogers to have it replicated.
Mill creek MetroParks boasts numerous bridges. From the small foot bridges along the trails to the picturesque Japanese Bridge at the foot of Calvary Run to the intriguing Suspension Bridge in the flats, each bridge has a story to tell.
The Suspension Bridge was designed by Charles Fowler and built by the Youngstown Bridge Co. in 1895. It is the oldest bridge in the park and perhaps the most intricate.
Its latticework and symmetric precision have inspired artists of every medium and capture the imagination. The west end of the bridge heads into the "Steps to the Gods," where steep, stone steps lead upward to caves and a challenging walking trail. The east end of the bridge leads to the amphitheater and rising hills spreading east and north.
Parapet Bridge towers over the south end of Lake Glacier. In the early part of the 1900s, Bruce Rogers, brother of Volney Rogers, who was instrumental in preserving the park for future generations, had traveled to Italy and was taken by the design of an arched bridge there.
Upon Bruce Rogers' return, he commissioned a replica of this bridge to be built by architect and landscape designer Julius Schweinfurth. The stonework on the Parapet Bridge is unique, and the bridge is considered to be one of the finest of its kind in the country. Soot from the mills over the years has caused the stonework to be darkened and obscure, yet it remains a treat to behold.
Lanterman Covered Bridge was replicated in 1988 and enhanced as it stands today. It is a few paces upstream from the Lanterman's Mill and is certainly a photographer's dream.
Originally, the bridge was a way for farmers to bring their horse-drawn wagons across Mill Creek carrying grain to the mill. The covered bridge helped to keep horses calm as they traversed over the rushing waters below.