Meat eaters, musicians, artists mix to benefit children at Rust Belt FolkFest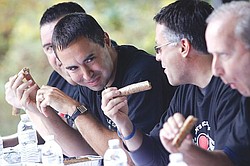 Photo
TOP DOG: Dave Buttar, second from left, representing Yurchyk & Davis CPA's of Canfied, ate seven DiRusso sausages in five minutes to take the crown in the Sausage Eating Contest on Sunday at the Rust Belt Brewing Co. on Mahoning Avenue. The contest was part of Rust Belt Brewing's Artists of the Rust Belt FolkFest.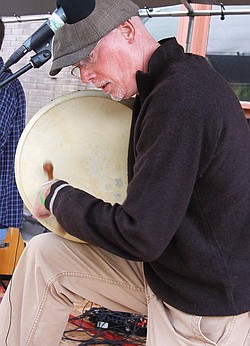 Photo
FOLK MUSIC: Phil Brady of the band Brady's Leap performed at the Rust Belt FolkFest, which was at the Rust Belt Brewing Co. on Mahoning Avenue.Brady's Leap is made up of Youngstown State University professors.

Photo
Artist Jenn Cole of Liberty uses mixed media for her work.
Meat eaters, musicians, artists mix to benefit children at Rust Belt FolkFest
By SEAN BARRON
VINDICATOR CORRESPONDENT
Whatever Dave Buttar planned to accomplish Sunday, he can add consuming seven sausage links in a matter of minutes and winning a trophy to his list.
"That last one was hard to get down," said Buttar, a shareholder with Canfield-based Yurchyk & Davis CPA's Inc. "Fortunately, my family cheered me on."
Buttar was one of nine contestants to take part in Sunday's first Mahoning Valley Sausage Eating Contest at the Rust Belt Brewing Co., 530 Mahoning Ave., which is part of the B&O Banquet Center.
Participants paid $100 each and took to an outdoor stage to eat as many sausages as possible during the five-minute fundraiser, which was part of the Artists of the Rust Belt FolkFest.
Proceeds from both events, along with sponsoring funds, are to benefit the D&E Counseling Center's Children's Circle of Friends Foundation, designed to provide support for children's mental-health programs. Officiating and kicking off the contest was Mayor Jay Williams.
Hundreds of people paid $1 each to enter the seven-hour folk and art festival, which also was intended to capture, showcase and celebrate artwork that depicts the essence of the Rust Belt, an area that loosely stretches from Detroit to Buffalo, N.Y., to Pittsburgh, noted Daniel Horne, a sculptor and event organizer.
Forty-five vendors took part in the fest; five regional modern-folk bands provided the entertainment.
The bands were Quinn Sands & The New Band, of Elyria; Brady's Leap, a group made up of Youngstown State University professors; Pittsburgh-based Tom Breiding; and Chris Castle and Alex Bevan, both of Cleveland.
Before and after the eating contest, people walked around numerous tents from which local and regional artists sold items that included mosaic stained-glass pieces, ceramic bowls, oil paintings, tie-dyed shirts, glass pendants and bronze charms. Many artists also raffled their pieces as part of a Chinese auction.
Selling Horne's art was his wife, Mary, who writes on and bleaches T-shirts that embrace the spirit of the Rust Belt.
Horne said that her husband buys scrap metal by the pound, and occasionally uses rocks, to create kinetic pieces that are relics of the Rust Belt. Two examples are Junkyard Dog, which shows part of a black metal shovel that rotates and rests precariously on a portion of a pitchfork, and Bent Out of Shape, coils he hammered for a deliberately distorted effect.
"He sees art in rusted stuff," Horne said. "He works very hard to get the balance right."
Instead of rocks and old metal, Jenn Cole's mediums are collage and paint that she adds to photographs, many of which she finds at antique shops.
Vintage black-and-white photos often serve as her inspiration, said Cole, of Liberty, whose works exemplify mixed media.
Also on hand was Cole's husband, Chris, who said he's starting a series of three-dimensional photography.
Supporting the local art scene was a main reason the Coles participated in the fest, they added.
Many attendees seemed attracted to colorful Shellybeads, which are lamp-rock glass beads hand done by Shelley Krok of Howland.
Her technique is to wrap glass rods around a mandril (a stainless-steel rod), then subject them to a torch and propane to make bracelets, necklaces and many other items.
A few of her works, such as a hand-done frog that sits atop a wine cork, have won awards at the last two YSU Summer Arts Festivals, Krok said, adding that she received training at the prestigious Corning Institute of Glass in Corning, N.Y.
Krok, who's also a secretary at Forum Health Trumbull Memorial Hospital, said delving into her art has other benefits, such as giving her an outlet to get rid of stress.
"When I come home, I go down in my basement, and I'm in my own little world," she added.
For $15 each, people were able to have Nancy Hawkins of Columbiana draw their portraits.
Surrounding Hawkins, a 40-year artist, were oil-based landscapes, many of which depict the rural flavor of Columbiana County.
Her works and portraits have been part of many festivals and street fairs, noted Hawkins, who received a bachelor of fine arts degree from Kent State University.
"I like to do things from life," she said.
A goal of the FolkFest was to raise $1,000 for the foundation, noted Horne, who said he's committed to putting on three local shows annually, including a blues and rock festival.
The brewing company also helped by donating 50 cents per beer sale to the effort, he added.
More like this from vindy.com