'Gibby' James earns McGuffey distinction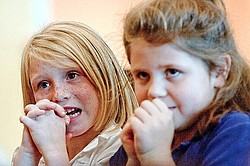 Photo
STORY TIME: First-graders Kailey May, left, and Shandi Coe listen to a story told by Regina Rees of Youngstown State University, who previously won the William Holmes McGuffey Historical Society's Pioneer Award.
The Canfield resident is recognized for his contributions to literacy and historical preservation
By ELISE FRANCO
Vindicator staff writer
YOUNGSTOWN — Gilbert "Gibby" James said the Mahoning Valley has given him so much, and it was only right that he gave something back.
And to honor James' several decades of philanthropy work in the area, The William Holmes McGuffey Historical Society gave him the Pioneer Award on Friday afternoon at William H. McGuffey Elementary School on Schenley Avenue.
Richard Scarsella, historical society president, said each year the award is given to an individual for his or her contributions to literacy and historical preservation of the community.
He said James, 85, is well-known in the field of historical preservation and local culture.
"We give this award as a part of keeping the McGuffey name alive in Mahoning County," Scarsella said. "People like Mr. James, who have made notable contributions, are recognized."
He said this is the fourth year the organization has given out the award, and James will join the likes of Tony Lariccia, a local businessman and philanthropist; Dr. Regina Rees, a Youngstown State University educator; and Janie S. Jenkins, a retired Vindicator reporter and columnist.
"[James] joins a rarefied list of locally known people who have donated their money, time and talent," Scarsella said.
James, who grew up on Youngstown's West Side and currently lives in Canfield, said he decided to start giving back to his community later in life.
"I feel my community has been good to my family," he said. "So the only thing I can do to say thank you is give something back."
James serves on six foundations — International Foundation, Wirt Foundation, Swanston Foundation, Rayen Foundation, Oak Hill Foundation and Arms Historical Foundation.
He also was involved for more than 30 years with Butler Institute of American Art, the Canfield Fair Board, Mahoning Valley Historical Society and Boys and Girls Club of Youngstown. He was involved with United Way Leadership, YWCA Board, International Council YSU and Youngstown Chamber of Commerce for 20 years.
"I learned to give to my community later in my life," James said to the student body. "Help out a neighbor in your community, and someday maybe you'll be up here instead of me."
Scarsella said it's important to keep the history of McGuffey alive in the Valley, which is why the award is presented each year.
"Now Mr. James is truly a part of local history," he said.
William Holmes McGuffey was an American professor and college president who is best known for writing the "McGuffey Eclectic Readers," one of the nation's first and most widely used series of textbooks.
McGuffey grew up on a family farm in Coitsville Township, and more than a dozen of his descendants are members of the historical society.
efranco@vindy.com
More like this from vindy.com