Family of slain boy finds comfort in guilty verdict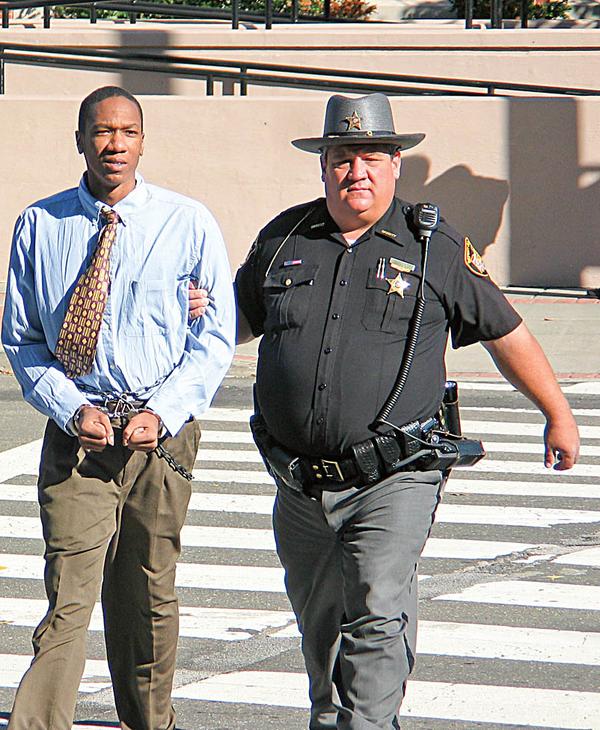 Photo
FOUND GUILTY: Eugene Cumberbatch is led to the Trumbull County Courthouse before a jury found him guilty of two counts of complicity to aggravated murder and other charges related to the shooting deaths of Lloyd McCoy Jr., 11, and Marvin Chaney, 26, in Warren last spring.
Eugene Cumberbatch Trial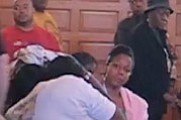 Video
Eugene Cumberbatch might face life in prison with no parole.
By Ed Runyan
WARREN — Lloyd McCoy Sr. lost his 11-year-old son to senseless gun violence last April.
He wanted to make sure the Trumbull County Prosecutor's office didn't let justice for his son slip away, too, so he spent quite a bit of time in recent months checking in with Chris Becker, the assistant prosecutor handling the criminal cases against Eugene Cumberbatch and Eugene Henderson.
"I just wanted to make sure," McCoy said Friday.
"He assured me he would treat it just like it was his own kids, and he did," McCoy said of Becker. "He came at them with the kitchen sink. Chris did a good job."
The McCoy and Chaney families both thanked Becker on Friday morning after a jury returned guilty verdicts against Cumberbatch, 27, of Front Street Southwest, on charges that he helped Eugene Henderson, 25, of Pearl Street Southwest, kill Lloyd McCoy Jr. and Marvin Chaney, 26, in the house on Wick Street where Chaney lived with Lloyd Junior's sister, Brittnay McCoy.
Lloyd's mother, Pam, just kept thanking God in the minutes after Cumberbatch was led away from Judge Andrew Logan's courtroom in the Trumbull County Courthouse.
"Even though the guilty verdict won't bring them back, some sort of justice has been done," she said of her son and Chaney.
The jury found Cumberbatch guilty of two counts of complicity to aggravated murder, two counts of complicity to murder, and single counts of improperly discharging a firearm into or at a house, complicity to felonious assault and being a convicted felon in illegal possession of a firearm.
Pam McCoy was wearing a Red Dragons football jersey such as the one her son wore while playing youth football in Niles. Family members have also worn McCoy jerseys to the trial such as the one Lloyd Jr. wore while playing youth baseball in Warren. He was a student at the Willard K-8 school.
Marketta Jackson, Marvin Chaney's sister, said she was relieved that Cumberbatch was convicted. "One down and one more to go," she said.
"My heart goes out to the Cumberbatch family, too, but they still get to see him," she said.
Henderson is set to go on trial on the same charges Nov. 2 before Judge John M. Stuard.
Cumberbatch will be sentenced Oct. 8 and could get life in prison with parole eligibility after 20, 25 or 30 years, or no parole.
Becker called a third co-defendant, Marcus Yager, 22, of Vine Avenue Northeast, to testify as his key witness in the case. Yager said he gave a handgun to Cumberbatch and believes Cumberbatch fired it one time at the Wick Street house, while Henderson fired an AK-47.
Yager said he didn't fire any weapons and stayed in a borrowed Saturn while the shooting was going on.
Police recovered from the scene 24 shell casings from an AK-47-type assault rifle and one 9mm shell casing, along with a pair of sunglasses and a cell phone.
Yager and two other witnesses testified that Henderson yelled loudly at Cumberbatch late April 13 inside Henderson's house on Pearl Street over losing Henderson's cell phone.
Yager said that was because Cumberbatch was supposed to hold Henderson's sunglasses and phone while Henderson fired shots into Chaney's house, but instead, Cumberbatch mistakenly left them at the murder scene.
Yager, who called himself "Little Montana" on his MySpace page in reference to a character from the gangster movie "Scarface," is expected to get between one and five years in prison when he is sentenced later.
Becker credited Detective Wayne Mackey and the rest of the Warren Police Department for their work in the case, especially the officers who preserved and collected the sunglasses, phone and other physical evidence.
The physical evidence, which was analyzed by the Ohio Bureau of Criminal Identification and Investigation, "was crucial to this case," Becker said.
Though the cell phone didn't yield any electronic evidence, "touch DNA" on the phone and sunglasses suggested that they had been handled by Cumberbatch and Henderson.
runyan@vindy.com
More like this from vindy.com