Defense dominates — again
Mooney vs Harding 31-6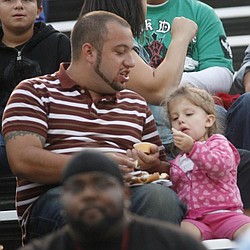 Gallery
Mooney forced 5 turnovers en route to a 31-6 win over Harding
By JOE SCALZO
VINDICATOR SPORTS STAFF
YOUNGSTOWN — Here's all you need to know about Cardinal Mooney's 31-6 win over Warren Harding on Friday night: Afterward, one of the Cardinals' starting offensive linemen was interviewed by both a radio station and a newspaper.
It was the type of game where you think, "Geez, even if Harding hadn't committed five turnovers, it might not have mattered." Or where, in the second quarter, you find yourself realizing, "That was the first touchdown the Raiders have scored against Mooney since 2006."
It started with an 89-yard touchdown run by Mooney senior Braylon Heard (the second straight week Heard has scored on a long run on the game's opening play) and it ended with the Cardinals picking up three straight first downs to run out the clock. (The second time in three weeks they've done that.)
"A lot of guys made plays tonight," said Cardinals coach P.J. Fecko, whose team has won three straight over Harding by a combined score of 97-6. "We had a good week of practice and the guys came out focused from the opening kick."
Heard, a West Virginia recruit, finished with 142 yards on 12 carries and scored twice, with many of those runs coming behind 6-foot-3, 285 pound senior guard Zach Larson.
"To know you're blocking for a guy who's going to go on and play at West Virginia and hopefully one day in the NFL, and to know I was the main guy blocking for him, is just awesome," said Larson. "To start off the game with a 7-0 lead 20 seconds in, you couldn't ask for more than that.
"There was a lot of football left to play, but it definitely put them on their heels a little bit."
Four minutes after that first TD, Heard struck again, scoring on an 11-yard run set up by a muffed Harding punt return. But after a 32-yard field goal by A.J. Fox gave Mooney a 17-0 lead early in the second quarter, the Raiders started to come alive.
They cut the deficit to 17-6 with an 11 play-91 yard drive capped by a 15-yard touchdown pass from Jordan Miller to Edward Killingsworth with 1:32 left in the second quarter. Mooney then fumbled away the ensuing kickoff — its only turnover on the night — and the Raiders recovered on the Cardinals' 38.
But, two plays later, Miller was picked off by senior Joe Stoops, who gave the Cardinals a first down at Harding's 30. (Stoops actually returned the ball for a touchdown, but it was nullified by an illegal block.) Three plays later, Alex Zordich lofted a beautiful pass over Heard's shoulder in the end zone for a 30-yard TD, a 24-6 lead and, for all intents and purposes, another victory.
"That was huge," said Harding coach D.J. Dota. "High school football is all about momentum and when we finally regained it, we gave it right back.
"We talk and harp on mistakes and we made way too many tonight."
Mooney's defense surrendered 240 yards, but the Cardinals picked off three passes (Donald D'Alesio and Carmen Leonelli had the others) and recovered two fumbles (Nick Gemma and Clarence Scott). Moreover, five different Mooney defenders had at least one tackle for a loss.
"It was a total team effort," said Fecko. "We have a lot of guys on offense and defense making plays."
Miller had a decent night leading the spread offense attack of the Raiders (2-1-1), completing 10 of 18 passes for 120 yards, a TD and an interception. Senior Mike Dorsey, also a West Virginia recruit, carried 11 times for 80 yards but could never break a big one.
"Harding is good," said Larson. "They've got two or three guys going to Division I schools and they've played some tough opponents.
"Every year, Harding has the type of team where you can't say, 'Oh, this week is a bye week.' "
Mooney (4-0) doesn't have a bye week this fall, nor does it play a team that fits that description. It next gets Mentor Lake Catholic (which beat Ursuline by two touchdowns last weekend) before traveling to Buffalo in two weeks for St. Francis. Considering the Cardinals have already beaten Boardman, Columbus DeSales and Elyria Catholic, they've definitely earned their No. 2 statewide ranking.
"The level of football we play every week is incredible," said Larson. "There's definitely no off weeks."
scalzo@vindy.com