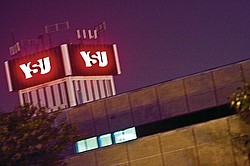 Photo
LIGHTING UP THE SKYLINE: The AT&T Tower on the campus of Youngstown State University now showcases a brightly lit YSU logo. The sign will light up the skyline around the university at night. The new lighted design was officially unveiled at a press conference Thursday night.
The tower can be seen for miles around the university.
By JOHN W. GOODWIN JR.
VINDICATOR STAFF REPORTER
YOUNGSTOWN — Anyone in the Youngstown area not sure where the Youngstown State University campus is located will have much less trouble finding it now.
YSU officials and representatives from AT&T came together on the lawn of the campus green Thursday for the official lighting of the new "YSU" logo on top of the 180-foot AT&T tower on the campus. By 8:30 p.m. the big, bright red and black logo could be seen for miles in all directions approaching the campus.
The AT&T Tower, located on Phelps Street near the intersection of Rayen Avenue, is virtually surrounded by the YSU campus. Over the past several weeks, the tower was painted white and topped with lighted letters 8-feet-by-20-feet in size.
Ron Cole, director of campus communications, said the lighted tower will serve a purpose.
It will "showcase the skyline of the city and show YSU's connection to the city and the valley as a whole," said Cole. "This will be a true asset to the downtown area."
The lighting ceremony was the result of a dream and nearly a decade of planning by Youngstown State University President Dr. David Sweet.
Shortly after Sweet's arrival at YSU in the summer of 2000, he initiated discussions as to the feasibility of painting and affixing letters atop the tower. In December 2007, Sweet met with AT&T representatives to move discussions on the project forward.
"This project is an example of how persistence, positive attitudes and partnerships can produce outstanding and far-reaching results," said Dr. Sweet. "The tower will stand as a beacon for visitors to the campus and the city of Youngstown. I want to thank AT&T for its commitment to YSU and the entire Mahoning Valley."
Tom Pelto, AT&T president, said the company is donating the space atop the tower to the university at no cost. He said the tower was erected in 1969 as a functional tower for long-distance transmission and there was little need for beautification.
"We have waited a long time for this evening. We have converted an eyesore into an icon," said Pelto. "It is an honor to join with Dr. Sweet and the Youngstown community to celebrate the lighting of this welcoming symbol highlighting a true gem of this community."
The project was paid for with $160,000 in charitable donations of cash or services.
jgoodwin@vindy.com