St. Joe's unveils Wexford Center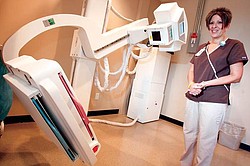 Photo
HIGH TECH: Nancy Walker, a resident of Howland and a 30-year employee at St. Joseph Health Center, stands beside a new GE Definium 5000 digital-imaging machine at the new and expanded Urgent Care Center on the St. Joseph Campus on Niles-Cortland Road in Howland. Walker is one of the technicians who operate the high-tech device.
HOWLAND — St. Joseph Health Center unveiled its new, expanded urgent-care facility in the Wexford Center, which features a new digital-imaging machine, the GE Definium 5000.
The digital equipment replaces traditional film X-rays, which speeds up the process, subjects patients to less radiation and provides sharper images, said Christine Scherer, nurse manager of the urgent-care unit.
The Wexford Center is located on the St. Joseph Campus at 1950 Niles-Cortland Road (state Route 46). Media tours of the facility were from 1 to 2 p.m. Wednesday, at which time a blessing ceremony was conducted and a public open house began.
The GE Definium 5000 is connected to a system that enables images to be sent to the hospital or other locations for radiologists to view and read, and for physicians on St. Joseph's staff to access, said Ron Neill, director of physician practices.
The St. Joseph Urgent Care Center, located for 16 years at 1930 Niles-Vienna Road, was moved into the renovated space in Wexford Center two weeks ago, Scherer said.
The new urgent-care facility includes seven examination rooms, a laboratory and imaging room, as well as offices for Dr. William B. Woods, who moved his Warren Orthopedics and Sports Medicine practice from East Market Street to Howland; and Dr. Stephanie Kopey, a physical medicine and rehabilitation specialist.
Neill said other specialists will be coming in the near future to the Howland St. Joseph Campus, including Dr. Eyad Zonjy, a neurologist; and Drs. Thomas Zarlingo and Oscar Khawli, high-risk pregnancy specialists.
"We're consolidating services to make it more convenient for patients to get treatment," Neill said.
Other units located on the Howland Campus include the St. Joseph Outpatient Surgery Center and Pain Management Center, he said.
Neill said about $500,000 was invested in equipment and building renovation for the center. It will employ about 100 by the end of the year, including doctors and 10 additional people because of the expansion. The physicians and center share support staff, he said.
alcorn@vindy.com