Photo
John Breedlove addresses Congressman Tim Ryan during the Health Debate at the Jewish Community Center in Youngstown Monday evening.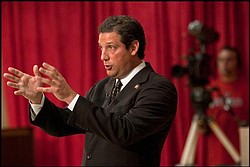 Photo
U.S. Rep. Tim Ryan (D-17) responds to questions from invited audience members during a discussion on the current health care bill at the Jewish Community Center in Youngstown Monday evening.
The congressman said the 'public option' is not a 'deal-breaker' for him.
YOUNGSTOWN — The comments ranged from "health care is a right, not a privilege" to the questioning of the federal government's constitutional authority to overhaul the health-care system.
WFMJ Channel 21 and The Vindicator sponsored a live 90- minute health-care forum Monday from the Jewish Community Center at 505 Gypsy Lane.
The forum featured U.S. Rep. Tim Ryan of Niles, D-17th, answering questions from citizens about health care.
There were about 70 members of the public at the televised forum.
Ryan said he's 90 percent sure that Congress will approve significant changes to health care later this year.
There are those concerned that changes are taking too long and others feel "it's being jammed down their throat," Ryan said.
One contentious issue is the "public option," a government-run insurance plan.
President Barack Obama and congressional leaders have sent mixed messages in recent weeks about the inclusion of a public option.
While Ryan said he supports a public option, "It's not a deal-breaker for me," and he'd vote for a bill without it as long as there are other significant changes.
Among those changes, Ryan said, is the requirement that health-insurance companies cover pre-existing conditions, a cap for citizens on out-of-pocket medical expenses and provide more options for people to receive wellness care.
Sandra Martin of Youngstown, a Youngstown State University student who wants to be a social worker, asked Ryan where she could find accurate information about the health-care proposal, which has generated a lot of discussion, debate and controversy.
Ryan suggested reading the bill online. He also said those who watch a lot of CNN or MSNBC should tune in to Fox News, and vice versa, to get a different perspective.
John Breedlove of Austintown, a junior at The Ohio State University, said the federal government's involvement in health care, particularly a public option, would be a "burden on my generation."
When the federal government gets involved, there is usually a problem, he said.
Despite Ryan's statements on not rushing to make a decision and being open to eliminating a public option, Breedlove said, "I don't think they're backing away. I think the Democrats will shove [a public option] down our throats."
Dave Williams, a repairman from Mineral Ridge, also opposes any involvement from the federal government in health care.
After it was pointed out that the federal government is already in the health-care business through Medicare and Medicaid, Williams said it shouldn't have those programs.
"This should have been stopped 50 years ago," he said.
Martin praised the forum saying "it was extremely informative" and said she is hopeful meaningful health care changes can be made.
"I think health care is a right, not a privilege," she said. "We have to have health-care changes by this year."
Beth Dunn, a small-business owner from Poland, said she supports changes to the health-care system.
But she expressed concerns that the changes will require everyone to have insurance, whether or not they want it.
Walter "Buzz" Pishkur, president and chief executive of Forum Health, said the event was productive.
"I don't think there's anyone opposed to having health-care coverage as it increases the quality of life," he said. "We'd like to have a system that's reasonable in costs. We need more dialogue."
skolnick@vindy.com