Firefighters attack blaze, heavy smoke at Banner Supply
Banner Supply Fire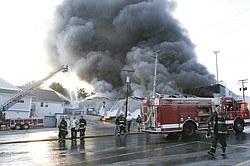 Video
Youngstown fire crews fought a large smoky fire at Banner Supply Co., 103 E Indianola Ave.
YOUNGSTOWN — Many area residents heading to work or school today were greeted by billows of black smoke coming from a South Side business.
Youngstown fire crews were at Banner Supply Co., 103 E. Indianola Ave., just after 7 a.m. battling a fire in a rear warehouse on the property. Smoke from the blaze could be seen for miles in all directions.
Fire Chief John O'Neil said the investigation into the cause of the fire is still open, but fire officials do not suspect arson. He said the fire apparently started in the northwest corner of a large storage unit near the main building on Indianola.
By 9 a.m. crews had the fire contained and were working to keep the flames from spreading to the main showroom and main building only feet away from the burning storage unit. Crews will be on hand most of the day moving around rubble and putting out any startup fires.
O'Neil said fire crews will contain the fire, but it may be sometime before the fire is completely put out.
"This is going to burn for a long time, maybe a couple of days. There are a lot of tar products and things in there that will burn so we are going to let it burn down as much as possible," he said. "You can't put enough water on that to put it out right now."
At the height of the fire, the department had about 28 firefighters and nine trucks at the scene, spraying water from various directions on aerial trucks.
O'Neil said there were no injuries in the fire and no one taken to area hospitals for treatment. The business was open when the fire occurred.
Firefighters do not yet have an estimated value on the loss.