---
Tuesday, September 15, 2009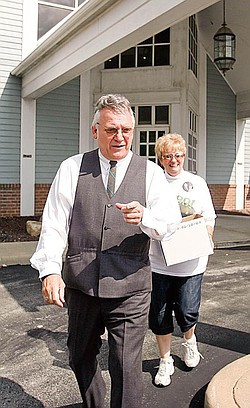 Photo
TRAFICANT ON THE AIR: Ex-U.S. Rep. James A. Traficant Jr. leaves the WKBN-AM radio studio in Boardman after hosting a show. Traficant took calls from 21 people, none of whom criticized him. Behind Traficant is Linda Kovachik, a longtime friend and former congressional staffer.
Not a single caller said anything negative about him during the show.
BOARDMAN — Ex-U.S. Rep. James A. Traficant Jr. took telephone call after telephone call praising him during a radio show he hosted on WKBN AM radio.
But the former congressman admitted during Monday's show that "there's a silent majority that doesn't like" him.
That "majority" was certainly "silent" during Traficant's two-hour guest-hosting duties. Traficant filled in for Dan Rivers, who is also the station's operations manager.
Of the 21 calls Traficant took Monday, not even one had anything negative to say about him.
"I didn't get one bad call," Traficant said as he signed off. "I expected a couple of people to try to roast me."
Traficant repeatedly said on air that he wasn't screening callers.
He also refused to give out the station's call-in telephone number, saying there already were far too many people waiting to speak to him.
Traficant, expelled from the House after more than 17 years as a congressman, was released Sept. 2 from federal prison after serving seven years and one month. Traficant was found guilty in April 2002 on 10 felony convictions including racketeering, bribery, obstruction of justice and tax evasion.
Since then, he's been a guest on two national television shows, spoke at a TEA Party in Columbiana and addressed a crowd of about 1,200 at a dinner welcoming him home.
Traficant arrived at the WKBN studio at 9:40 a.m., 20 minutes before his show started Monday.
Bill Kelly, the head of Clear Channel Radio, Youngstown, refused to let a Vindicator reporter and photographer inside the station.
Kelly said WKBN-TV and WYTV-TV, the local CBS and ABC affiliates, respectively, who share their news operations, were the only media outlets allowed to watch Traficant host the two-hour show.
A reporter and cameraman for the stations were permitted inside.
The stations are our "promotional partners" was the reason Kelly said all other media wasn't permitted inside the Clear Channel building.
During his broadcast, Traficant said he doesn't buy The Vindicator because it is "too negative at times."
"We don't buy the local Youngstown paper," he said. "It's my little objection."
But it's apparent that Traficant reads the newspaper online at Vindy.com.
Traficant told a caller who objected to some of the newspaper's coverage, "You really don't have to spend the money" to buy the paper, because you can read it online.
Before and after his broadcast, Traficant declined to talk to a Vindicator reporter.
His only comment as he left was: "How the hell can some of these big newspapers fail and you guys are still in business?"
Traficant ignored an offer to have an unedited question-and-answer interview with the newspaper. On the air, one caller attempted to get Traficant to criticize U.S. Rep. Tim Ryan of Niles, D-17th, who succeeded him in Congress.
But Traficant wouldn't bite.
"He learned more from me than he'd like to admit, and he emulates me more than he'd like to admit," he said of Ryan, a former Traficant staffer.
Earlier in the day, Traficant appeared on CNN's "American Morning" program.
Some highlights:
UOn his incarceration in which he served much of his time at a medical facility in Rochester, Minn.: "They said I had a medical problem," he told CNN's John Roberts, because "I wouldn't take the medication" saying he didn't trust prison officials.
He added on WKBN that "deep down, the government wanted me to get hurt" in prison.
UOn whether he will run for Congress: "I am not sure at this point," he said, noting, "the only way I can get back at the Justice Department is to get back into Congress."
He repeated that on WKBN.
UOn fighting for Delphi salaried workers' benefits: "If we can take care of people all over the world, we can take care of the people back here."
Traficant said on WKBN that the "noise" he's making about Delphi will end up increasing the amount of federal funds coming to the Mahoning Valley.
He said talk of his potential congressional run will scare politicians in Washington enough to provide money for the Valley.
Traficant also claimed that the Justice Department "burned boxes and boxes" of evidence that would have proved his innocence.
Before his federal trial in 2002, the U.S. Attorney's office provided Traficant with 37 boxes of evidence. After being found guilty, Traficant acknowledged he never opened even one of the boxes.
skolnick@vindy.com