IN FOCUS: Noah's Lost Ark
Noah's Lost Ark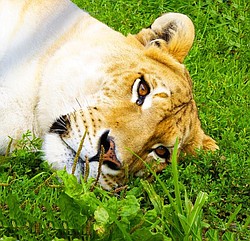 Gallery
A refuge for exotic creatures
"We must fight against the spirit of unconscious cruelty with which we treat the animals. Animals suffer as much as we do. True humanity does not allow us to impose such sufferings on them. It is our duty to make the whole world recognize it. Until we extend our circle of compassion to all living things, humanity will not find peace."
Albert Schweitzer
The Philosophy of Civilization
By NATHALIE TAGHABONI
SPECIAL TO THE VINDICATOR
There is a place of stark contrast in Berlin Center — a place where pain ends and respite begins for some of the most beautiful animals on the planet. From the outside, it appears unassuming, with a gravel parking area and a little wooden house bordered on each side with a fence. You enter a well-stocked gift shop, pay a small fee and open the door to an education of a lifetime.
Noah's Lost Ark is not merely a zoo. It is a place of refuge for exotic animals that have met with those of us who think nothing of inflicting pain and distress. Each of the more than 125 animals there has a story to tell, and, perhaps not quite so fancifully, if you look into their eyes, you may be able to see your own humanity.
Ming, the tiger confined to a tiny New York apartment, now lives at the Ark in a large enclosure. Hawk, a lion who arrived at the Ark emaciated and horrendously abused, has now regained his semblance as the king of the jungle.
The facility does not breed or sell the animals. They are simply well cared for and allowed their dignity until the end. The staff is made up mostly of volunteers, with Ellen Whitehouse as the director of the refuge. It is not government-funded and relies on admission fees and kind donations.
The sanctuary is at 8424 Bedell Road in Berlin Center just 20 minutes southwest of Youngstown. View online at www.noahslostark.org or call (330) 584-7835.