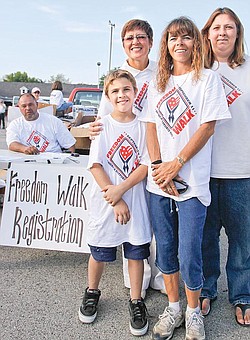 Photo
TEAM EFFORT: Colton Lockner and his mother Robyn, right; and his aunt Rose Fusco, rear right, stand with Allison Barber, a creator of the Freedom Walk in Washington, D.C. They were in the Lake Shore Plaza parking lot Thursday for Lake Milton's "America Supports You" Freedom Walk to show support for the U.S. military.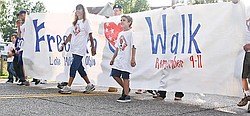 Photo
BIG BANNER: Out in front for Lake Milton's second annual "America Supports You" Freedom Walk was a large "Remember 9-11" banner. Walkers on Thursday showed support for the U.S. military, and remembered victims of the Sept. 11, 2001, terrorist attacks on America.
IN THE PAST | Sept. 11 coverage...
By VIRGINIA ROSS SHANK
VINDICATOR CORRESPONDENT
LAKE MILTON — One of Colton Lockner's primary goals is to do what he can to keep alive the memory of Sept. 11, 2001.
Although he was barely 4 years old when the terrorist attacks shook America on that infamous date, Colton doesn't want anyone to forget the thousands of people who died that day or the lives that have been lost since.
For the past several years, Colton has invited area residents to join him for the Freedom Walk events he organizes each September.
He initiated his first walk four years ago when he was an elementary school student at Sebring School District. On Thursday, some 150 local residents and public officials joined Colton, now 12 and a student at Jackson-Milton schools, for "Lake Milton's Second America Supports You Freedom Walk."
"I take the walk wherever I go," the Lake Milton boy explained. "When I lived in Sebring, we had the walk there and decided to have it here after we moved to Lake Milton. It's really important, and I want to keep doing it every year. I just want to support the families of the people who were killed or hurt, ,and I want to let them know we still think about them."
Colton said he was moved by the events of Sept. 11 and inspired by his two grandfathers and two uncles who served in the military. He decided to organize and host his first walk after reading about America Supports You Freedom Walks, which are designed to remember the victims of the Sept. 11 terrorist attacks as well as to honor the first responders.
With help from his mom, Robyn, each year he organizes, promotes and even serves as emcee. Colton's first walk in Sebring attracted about 2,000 people. Last year he organized a walk in Sebring and another in Lake Milton.
"He really believes in this, and so does everyone who participates," explained Robyn Lockner. "This is something he started, something he wanted to do, and it has become a big part of his life."
After walking the mile and a half from the Lake Shore Plaza at the corner of Mahoning Avenue and Grandview Road to Milton Avenue, participants gathered on the American Legion Post 737 lawn for a 45-minute program that included music, prayer and addresses by local officials.
Jesse Galchick, 15, of Massillon, former Nashville Star Teen Competition winner, sang the national anthem. Judge Theresa Dellick of Mahoning County Juvenile Court and Rick Mirenzi of Veterans Connections were among the speakers. Local minister Jacinta Bennett offered the opening prayer. The Jackson-Milton High School Band also performed.
"Some people feel it's unnecessary to continue with any 9/11 observances," said Bennett as she addressed the crowd before praying. "But by standing here today we are showing our support for the families of the people who died during the terrorist attacks on 9/11 and the military people who have served our country and those who continue to serve. ... You don't want to be forgotten so do not forget those who have gotten us here today."
Colton said he will start organizing next year's walk within the next few months.
"As long as I can I'll keep it going," he said. "I want to remind people. I want to let the families know we haven't forgotten them. And I want to show our military men and women that we think about them and love them and thank them for what they do for us.
It's important to remember, and it's important to let them all know we haven't forgotten, because we do remember and we haven't forgotten."
---
Sept. 11 events
Today is the eight-year anniversary of the terrorist attacks on America. Events in the Valley:
Austintown A memorial service will be at 9 a.m. today at the Mahoning Valley Sept. 11 Memorial Park on South Raccoon Road across from Austintown Middle School. It will feature Bishop George Murry of the Diocese of Youngstown leading a prayer, laying of wreaths and a performance by the Fitch Concert Choir. Canfield
The Cardinal Joint Fire District and the Canfield Police Department invite the public to a Remembrance Ceremony at 6:30 p.m. today on the Canfield Village Green.