---
Thursday, September 10, 2009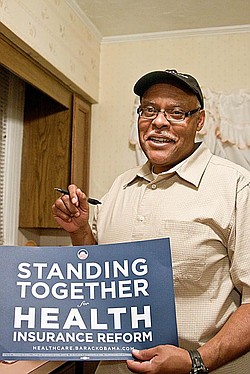 Photo
FAN OF REFORM: Jerome Parm of Organizing for America hosted a house party at the home of Penny Wells in Boardman. Group members and their guests watched President Barack Obama's speech on health-care reform Wednesday evening.
The president called for quick action on health-care reform legislation.
BOARDMAN — Penny Wells was entertaining Wednesday evening, but the gathering at the retired Youngstown teacher's Oak Knoll Drive home was not the usual house party.
There were pizza, drinks and a veggie tray. There was small talk — mostly about political issues.
But for the dozen people at the home, there was also a mission — to hear President Barack Obama's proposal on health-care reform and to learn ways to help support it.
The president said the time for partisan politics on health care must end because "that only hardens the disdain many Americans have toward their own government."
"Well the time for bickering is over," the president said. "The time for games has passed. Now is the season for action. Now is when we must bring the best ideas of both parties together, and show the American people that we can still do what we were sent here to do. Now is the time to deliver on health care."
Organizing for America, the group that sponsored the party, along with its subsidiary, Mahoning Valley for Change, works to enact legislation for Obama, said regional director Amy Diamond of Mentor.
Organizing for America sprang up from Obama's presidential campaign, she added.
Not everyone there was a member. Karen Dill of Youngstown came with her friend Rachel Fitzpatrick, also of Youngstown, who is a member of the group. Dill was not following the issue that closely, she said, and she wanted to find out more about it.
Donna Huntley of Youngstown, who said she is not a member of the group, is concerned about keeping momentum for reform going and stopping misinformation.
"The option right now from Republicans is: 'Let insurance companies continue, and let them do the right thing and if they don't, we'll jump in,'" she said. "Well, they haven't done the right thing in 25 years."
The president said his plan would meet three basic goals.
"It will provide more security and stability to those who have health insurance. It will provide insurance to those who don't. And it will slow the growth of health-care costs for our families, our businesses, and our government."
Others at the part said they approve of the aggressive push for reform.
"I'm so looking forward to this speech," said Lucy Moreland-Smith, who also lives at the Oak Knoll Drive home. "We haven't done a freaking thing. This is what needs to be done."
Costs are another concern, Huntley said. "We understand it's a business," she said. "But to go up 120 percent in the last four years should be unacceptable."
Those issues and more, of course, were addressed in Obama's speech to Congress and the nation as he outlined how he wants to make current health insurance work better, make it affordable for people who don't have it, and keep the costs from rising.
The group, who undeniably were Obama fans going into the speech, took issue with U.S. Rep. Joe Wilson, R-S.C., yellingm "You lie!" when the president asserted reform wouldn't include health care for illegal immigrants.
Moreland-Smith was for hauling the heckler out.
The group laughed at the partisanship that kept the Republicans from standing and clapping after Obama made a dramatic point. One Republican who started to clap, looked around him and quickly stopped prompted gleeful guffaws.
They were tickled too when the president smiled after his mention of reforming medical malpractice laws brought Republicans to their feet.
"I'm gonna make you guys get up! I'm gonna say something to make you guys get up!" Moreland-Smith said with a laugh.
Afterward, Huntley declared the speech "totally on point."
Dill and Nancy Wilhelm of Hartford said it made the issue clearer for them.
Jerome Parm of Youngstown hosted the party on behalf of Organizing for America. He said that for him, the president's ending remarks "said it all."
The president said that "concern for the plight of others is not a partisian feeling."
"It's a moral issue and about the character of this country," Parm said.
starmack@vindy.com