Ban, tax hurting cigar-shop owners
Cigar Shop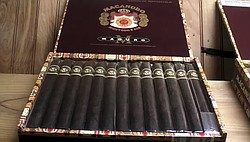 Video
Tony Marino, owner of ARM Cigar Co. in Boardman, OH talks about the cigar business.
By Rick Rouan
Tony Marino has moved his business and cut his inventory and overhead by more than half.
The smoking business isn't what it used to be.
"The government wants this business to basically be zero," said Marino, who owns A.R.M Cigar Co. in Boardman.
In the last several years, state and local government have led a charge to curb smoking. A voter-approved statewide smoking ban in 2007 has hurt business, and a national tax to fund children's health care has put a dent in smoke-shop revenue, local owners have said.
Since May 2007 when the ban went into effect, the state has received more than 44,000 complaints from individuals and issued 3,100 warning letters and 1,800 fines, according to The Associated Press.
Enforcement of the ban is in contention now at the state's 10th District Court of Appeals in Franklin County, an effort the International Premium Cigar & Pipe Retailers Association supports.
"Not only should there be no such thing as legislated smoking bans, but the Ohio inspectors are slapping fines and citations willy-nilly against businesses that are doing all they can to enforce the law, said Chris McCalla, legislative director for IPCPR, in a prepared statement.
The law prohibits bar and restaurant owners from permitting smoking. The Buckeye Institute is challenging whether a smoker's lighting up in an establishment qualifies as the owner's permitting him or her to do so, said Maurice Thompson, director of the 1851 Center for Constitutional Law. The case could overturn previous citations, Thompson said, adding that the Buckeye Institute will challenge the constitutionality of the law itself in another case later this week.
"These fines are crippling small businesses," Thompson said.
Local cigar-store owners said that they agree that the smoking ban has hurt business but that a recent national tax has had a greater effect.
"The government should just get rid of the smoking ban," said Geno Bellatto, who owns Havana House locations in Boardman and Niles and a Plaza Book & Smoke Shop in Austintown. "If they're going to keep taxing us, how are we going to stay afloat?"
One of President Barack Obama's first actions was reauthorization of the State Children's Health Insurance Program, which is funded in part by taxes on tobacco products. The new law increased taxes on tobacco products April 1, raising the taxes on a pack of cigarettes by 62 cents and the taxes on a small cigar by $1.01, according to the National Cancer Institute.
Those taxes have hurt the cigar industry, including local shops that already were reeling from the smoking ban.
"It blew the heck out of the cigar business," Marino said.
Marino moved his business from Market Street, where he had a smoking lounge and larger selection, to Stadium Drive, where he has cut the size of his space and the number of cigars he carries from 500 to 200.
"I had a beautiful spot. I had to move. I had to downsize because revenue wasn't coming in," he said.
The efforts to curb smoking could be having a financial effect on the state budget too. A Federal Reserve study found that the statewide smoking ban in Illinois has resulted in losses of more than $200 million in tax revenue.
The state of Ohio made cuts to several state-funded agencies and programs this year as it sought to fill a budget gap of $3.2 billion.
For Bob Kosa, who owns R Cigars in Cortland, the combination of the downturn in the economy and the smoking ban have hurt his establishment.
"Before, I'd have people coming in that were buying cigars and going to the factory and going to work to smoke them," Kosa said. "I used to wholesale to some of the bars, but I can't do that anymore."
Kosa is getting out of the business after 11 years as he retires to Florida, but he said that another business owner is taking over and keeping the smoke shop open.
"The market is still there," Marino said. "That ban didn't help. ... It was the tax that killed it."
rrouan@vindy.com
More like this from vindy.com