Jim Traficant @ Mr. Anthony's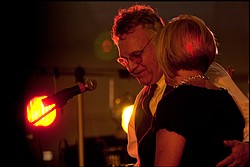 Gallery
9.6.2009 Jim Traficant speaks, signs autographs and takes photographs with supporters at Mr. Anthony's on Sunday evening.
The former congressman promises significant revelations on a Fox News show Friday night.
Traficant, released Wednesday from federal prison, told the crowd of about 1,200 that he came to the event because of the overwhelming support he's received.
"You've been too supportive for me to fail to show," he said.
It was Traficant's first public appearance since his release. He called in to an outdoors radio program on WKBN-AM on Saturday.
Traficant began speaking at 5:03 p.m. Sunday at an event that included a polka band and an Elvis Presley impersonator.
Quoting Nelson Mandela, Traficant said: "If you want to know the true nature of a country, you must go through its prisons."
"I know America. I've seen the other side of it, and I don't like it."
Mandela is the former president of South Africa who had served 27 years in prison in that country for speaking out against its government.
Traficant, of Poland, also criticized the U.S. government for being "involved in wars with very little interest for ourselves. Our children are being shipped back in body bags. Nobody's opening their mouth because people fear our government."
Traficant urged those at the event to take control of the country.
"I've been hounded by some government people for a long time," he said.
During his nearly nine terms in Congress, Traficant was known for his criticism of the government, particularly in one-minute speeches he delivered on the House floor.
It was a different floor Sunday, but Traficant held little back as the enthusiastic crowd repeatedly cheered.
Traficant also made a number of quips that drew laughs from theaudience.
"This is not meant to be light or funny. You probably have IRS agents and FBI agents writing down your license plates," he said in a dead-pan style to loud laughter.
A jury in April 2002 found Traficant guilty of 10 felony counts including racketeering, bribery, obstruction of justice and tax evasion. He was sentenced in July of that year to eight years in prison. He got out Wednesday with his sentence reduced for good time. He is on supervised release for three years.
"I was a quarterback [in high school and college], I was a congressman and I'm a convict," he said. "I have one hell of a pedigree."
Traficant not only wouldn't apologize, he said the federal government "had to cheat to convict me."
Traficant said he'll appear Friday on Fox News' "On the Record With Greta Van Susteren," at 10 p.m. for his first interview.
Traficant appeared on Van Susteren's show a few times prior to heading to prison in 2002.
Traficant promised to make "some significant statements" on the show.
He said Sunday that he couldn't do that with "an opposing print media here" because his message would be "diluted."
He also took another shot at the local print media saying: "Like buggy whips, their future's in jeopardy."
Traficant then proceeded to discuss those issues he said he's saving for Van Susteren's show:
- The loss of pensions and health care insurance for Delphi's retired salary employees.
"If we can take care of people all over the world, damn it, take care of our people here," Traficant said.
Traficant, who took up painting while in prison, donated three pieces he painted — of a horse, Presley and Betty Boop — to the Delphi retirees group so it can auction them to raise money to help the cause.
- The ongoing case of John Demjanjuk, an elderly retired Cleveland-area autoworker deported to Germany earlier this year to stand trial as a Nazi concentration camp guard.
While a congressman, Traficant fought for Demjanjuk, who had his death sentence in Israel for being the infamous "Ivan the Terrible" death camp guard, overturned.
- The case of Nnamdi Okolo, a Nigerian national, who Traficant said he met in a federal prison. Okolo, Traficant said, was pressured to testify against him and Traficant's co-conspirator, Richard Detore, but refused to do so. Detore was acquitted. Traficant said Okolo was deported for refusing to testify.
As for Traficant's future, he said, "I do not know what the future will hold."
After his speech, Traficant, with a huge smile on his face, met with those at Sunday's event at length, speaking with them, sharing hugs and well-wishes, and signing autographs.
Attempts to have a band play after Traficant finished speaking were futile. A chance to see or speak to Traficant was the reason most of those in attendance paid $20 to be there.
"It was everything I imagined it would be and so much more," said Linda
Kovachik, a family friend, a former Traficant staffer and an organizer of Sunday's event.
There were very few elected officeholders at Sunday's event. A number of elected officials and the head of the Youngstown-Warren Regional Chamber had criticized the gathering saying it wasn't appropriate to honor a criminal who hurt the reputation of the Mahoning Valley.
Among the elected officials at Sunday's dinner was Boardman Trustee Kathy Miller, who helped collect tickets.
She said Traficant had helped her on many occasions in the past and she was there to show her support.
Werner Lange of Newton Falls, a longtime Traficant supporter, said: "It's a joyous day. The crucifixion is over and the resurrection will begin and maybe the insurrection. Jim used to be America's No. 1 political prisoner. He is now American's No. 1 working class hero."
Also at the event was former Mahoning County Commissioner Frank Lordi, sentenced in 1999 to an 18-month prison sentence on a theft-in-office
conviction. Lordi was convicted of having two county building
inspectors pick up political petitions while on county time. The value ofthe time was estimated at only $200.
"You can't appreciate your freedom until you lose it," Lordi said. "It's seven years he can't get back. I'm really happy for him."
Lordi said he's always been impressed with Traficant's "willingness to takea stand and go against the grain. Too many politicians go with the flow. Hewas always willing to take on a battle."
Also in attendance Sunday was Columbiana County Republican Chairman DavidJohnson, who spent years trying to find GOP candidates to take on Traficant.
"I would support [Traficant] tomorrow if he ran for Congress," Johnson said.
"The thing I liked about Traficant was his independent streak. He was amaverick. He spoke for the people of this area who were fed up with how the federal government took us for granted."
skolnick@vindy.com